For those of you moving to the South Bend area with a furry friend in tow, you may be wondering about the best places for exercise, supplies, pet sitting, etc! I'm a dog owner, so this post may be *slightly* skewed in that direction, but some of this info will be useful to those of you with cats (or lizards, fish, hedgehogs, etc.) as well.
Official Stuff
Once you arrive in South Bend, make sure your pet has the required licenses and vaccines. You can find that information here.
Dog Parks
There are two dog parks in the area. Niles Ave Bark Park is conveniently located near downtown South Bend. One word of caution on this dog park: the "big dog" area is not super secure—the wrought iron fence leaves room for a medium-sized dog, s/he could probably slip under the fence or between the rails! So if your dog has a need to test boundaries like mine does, be sure to keep a close eye on them or use the little dog area, where the fence is reinforced with chicken wire.
Mishawaka also has an off-leash dog run, located in Prickett Marina Park, which borders the St. Joseph River. This is a much larger park, with a more secure fence, so there's a bit more freedom to run and play!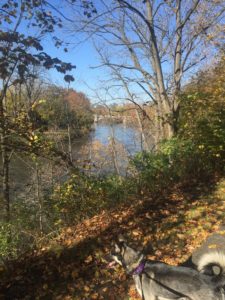 Walks and Hiking
There are plenty of parks and walking paths in the area. My go-to spot is the East Bank trail, a paved, multi-use path that connects Angela Blvd. (near campus) with the downtown area and boasts some great views of the St. Joseph River. Bonus: the trail passes right by the Niles Ave dog park. Most hiking spots in the area allow dogs on-leash (just make sure to check the rules before you go!). Check out David's post, Summer in South Bend: Getting Outdoors, for some ideas.
Pet Stores
If you need specialty pet supplies, there are several stores in the South Bend/Mishawaka area. Pet Supplies Plus is within walking distance of campus and they offer washing and grooming services. A little further from campus, you can find both PetSmart and PetCo. If you're looking for something a bit more unique, Two Dogs and a Cat is a boutique style pet store located in nearby Granger, IN.
Care
If your busy schedule keeps you away from home longer than you'd like, or if you're out of town and need someone to come hang out with your pet, I recommend Amber's Pampered Pets. She and her team offer walks, home visits, and even sleepovers! She has fit my dog into her schedule at the last minute several times. Plus she will send you photo updates and might even feature your pet on her Instagram.