Just in case you missed it in The Stream (weekly email on Grad events) this is happening on Friday:
Summer Soiree Series: DTSB First Fridays
Friday, August 4, 5:00-8:00 p.m., CJ's Pub
We'll meet at CJs for loads of free appetizers on Grad Life, then explore the offerings of DTSB First Fridays: Arts Alive! Free parking is available at the parking garage next door to CJ's. Register online now! All graduate students, postdocs, and guests welcome.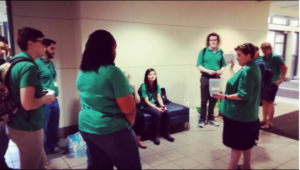 You can come find me (Louise!) hanging out at CJs in a ridiculously green graduate ambassador shirt! If you register ASAP on the link above, you can grab some free food while you are there. Come find me and let me know that you read my blog post 😀
To keep up to date on all the ND Grad must dos check out our social media channels:
Twitter https://twitter.com/NDGradLife
Instagram https://www.instagram.com/ndgradlife/
Facebook https://www.facebook.com/NDGradStudentLife/
P.S. We will be hosting Orientation related contests (with real legit prizes) during Aug 14-15th, so you definitely need to click those links.
P.S.S. I will look approximately like this. Hopefully less upside down –