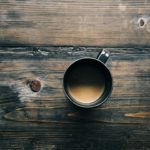 Need a little caffeine boost or a change of scenery? As you figure out your workflow this semester, consider integrating an occasional, or maybe even frequent, visit to some of these awesome local coffee shops. Most of these places have no problem with grad students coming in and setting up shop for a few hours (or more than a few…)
Here are some that took me a while to discover:
And here is the classic list:
Chicory Cafe – A favorite among grad students, Chicory is the only New Orleans themed cafe in South Bend. They have a wide range of caffeinated options, as well as excellent Mac N Cheese and Po Boys.
Chocolate Cafe – A South Bend classic, this cafe seems to have it all – ice cream, cake, caffinee, a wide variety of sweets, and hearty food as well! You haven't really been to South Bend if you haven't visited the Chocolate Cafe
Starbucks – Several locations to check out. If you want to use the rewards program (i.e. free refills), you will want to go to a stand alone location. My favorites for studying are the one north of campus just past the toll road, the one on South Bend Ave right by school (although this one can be crazy during exam time), and the one south of school on Ireland road.