In this special guest post, Jessica Schiltz a Graduate Orientation Ambassador, breaks down the bike options for getting to all the best places. 
The beauty of our campus is undeniable, with the sprawling quads, carefully lined flower beds and the grassy expanses, artfully lined with paved sidewalks. The winding paths and acres of lawns and landscaping are however, less than desirable when you need to get somewhere fast. The University of Notre Dame is approximately 2mi2 and navigating on- and off-campus can be time-consuming.
In order to optimize your daily routes consider acquiring a bicycle. Purchase options are always available at the wholesale retailers in Mishawaka, but if you're looking for a deal that isn't in a store, or on Craigslist, every year Fischer O'Hara Grace (Graduate Student Housing) hosts a bicycle raffle at the start of fall semester. Not sure if you need a bike right away? No problem, Notre Dame hosts an Old2Gold sale that includes donated campus bicycles. (Side note: graduate students who work year-round should remember to visit ND Security Police (NDSP) in Hammes Mowbray Hall in May to pick up a summer tag for their bike, so that your bike doesn't get removed during this annual clearing!) You can also hunt for deals at the annual spring Bicycle Swap through the Bike Michiana Coalition, where you can haggle for mountain, road, and cruiser variants.
It is highly recommended that you register the ownership of your current or newly acquired bicycle through NDSP. This improves chances of recovery if lost or stolen, or possibly placed on a tree branch. To prevent damage to your property and nearby leafy perennials, consider purchasing a U-lock rather than a cable lock and, if on campus, secure your bike to a bike rack. Also two quick pro tips: once summer is over, and winter quickly approaches, NDSP is willing to store bicycles for free, keeping them safe from the ravages of freezing temperatures and salt. Oh, you have a popped inner tube? Need a new chain? Proform Bike Shop is the closest place where you can get help on maintenance and repairs.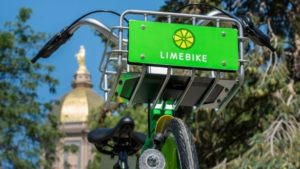 Can't afford the purchase of a new or used bicycle? Consider LimeBike. These bright key-lime green cruisers are dotted across ND and South Bend. Download their mobile app on Google Play or the App Store to set up an account and ride for 30 minutes for only a $1.00! Plus, if you sign-up with a valid ND (.edu) email, you can get a 50% discount. Plus, if you know you'll use LimeBike frequently the LimePrime Students program is $14.95 a month that includes 100 ride credits. So, if you are sick of two-ten-ing (walking) everywhere, waste no time and go find a two-wheeled ride!