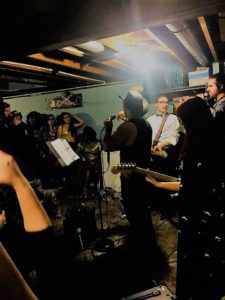 In this guest post, Elvin E. Morales Pérez, Ph.D. Candidate in Biological Sciences, shares his favorite places to enjoy live music in South Bend.
Hailing from a small agricultural town in Puerto Rico, finding entertaining music-related events that didn't involve Salsa or Reggaeton was a bit of an issue. Don't get me wrong, I enjoy getting my dance on every so often, but musical variety is an important part of a growing young man's education. Once I moved to South Bend, however, I was very pleasantly surprised. "The Bend," as it is more commonly known to the "Youths," is the biggest city I have ever lived in (sad, I know) and as such, I wanted to explore everything it had to offer. It was during this process that I came to discover a very active, vibrant, and above all varied music scene in the city. Live bands, open mics, dance events, random/slightly obscure/underground house shows (like that time my band The Control Group, played an acoustic show in my garage—shameless plug), and even cool roaming DJs spinning vintage vinyl from the back of a VW van (actual thing, not kidding), South Bend is just full of various things that anyone from professional or aspiring musicians to even regular music lovers would enjoy.
For all of those interested in the occasional piece of live entertainment or for those of you looking to share your musical talents with the rest of the world, I know a couple of places that you might be interested in:
Fiddler's Hearth: South Bend's very own local Irish pub is one of the most important musical focal points in the city with live musical events sometimes every day of the week. There is Open Irish Music Session on Mondays, Old Timey Music Sessions on Tuesdays, Acoustic Open Stage on Wednesdays, where you can play or enjoy shows by local bands playing anything from Irish folk songs to sweet, sweet funk music during the weekends. Fiddler's is definitely a place where you'll have a good time with some good food.
Vegetable Buddies: Veggie buddies is a place full of South Bend musical history. A musical hub in the city during the late 70's, this prominent musical venue — which hosted some of the greats in jazz, blues, bluegrass, and Woodstock-era rock and roll — returned to South Bend in the last few years and has kept that tradition going strong. On Fridays and Saturdays, Veggie Buddies hosts artists from all over, which sometimes even open the stage for local musicians to play with them, so if you're interested in some cool music with some good atmosphere check it out. (They also have Latin Dance Nights on Wednesdays if you want to get your groove on; variety man, wonderful stuff).
LaSalle Kitchen and Tavern: Although a little bit difficult to get to, involving a trek through the alleyway next to the building, and going up the back stairwell to the third floor (makes you feel kind of cool actually), the LaSalle Kitchen and Tavern is one of my favorite places in South Bend. Good food, good atmosphere, and above all, really cool music shows, with bands and solo artists playing most Fridays and Saturdays. One time, I heard a Spanish rock band playing which ended up hitting right in the feels, mainly because I was one of the few that actually understood the language that night, but it was still amazing.
Lang Lab: When you first look at Lang Lab from the outside you may think "this place looks like an old warehouse." Well, the reason why this is the first thing that pops into people's minds is that it is a warehouse, or much rather, it used to be. The owners converted the 33,000 sq. ft. building into a multi-use cultural and educational facility that hosts several local businesses (one of them a coffee shop, yay!), as well as many theater groups and musical artists. Additionally, it has its very own gallery, displaying pieces from various local artists.
Aside from the various places I mentioned, there are also a lot of city-wide musical events like the Riverlights Music Festival, a two-day event which takes place every summer and includes over 50 local musicians playing only original music. Remember, these are only a couple of suggestions to get you going, there are still many places and events around "The Bend" that space constraints and a lack of literary wit prevent me from telling you about. Go out, explore, and start making fun, new experiences involving awesome, weird, and funky fresh sounds.
P.S. In the next installment of "Elvin kind of talks about music stuff" I'll talk about places where the more adventurous but not-as-musically-oriented people might want to try their luck: Karaoke bars… (*ominous thunder sounds*)
Do you have any questions about living in South Bend? Ask the Salmon! Submit your questions to gradlife@nd.edu or go to the Ask a Question tab at the top of this page.