Aquí encontrará la versión en español de este artículo .
Guest post written by María Agustina Cedeño, interpreter and translator. 
"You can do what I cannot. I can do what you cannot. Together we can do great things".
Mother Teresa
I am from Ecuador and moved to South Bend almost five years ago. Once in the USA, with an H4 visa, I was not authorized to work, but that did not keep me from trying to be active, productive, and, at the same time, help others. I would like to share some of the enriching experiences that I have had as a volunteer to encourage the Notre Dame community (faculty, students, staff, friends, and international spouses like myself) to contribute to these causes. I believe each and every single one of our contributions is valuable and it will surely improve the state of the world we live in.
I started with my volunteering activities as an announcer at WSND-FM 88.9, the Notre Dame Radio station. My role there is to choose the classical music selection broadcasted every Tuesday in the "Morning Concert," as well as announcing the hourly Notre Dame ID and location. I think this is a nice way to contribute, not only to the Notre Dame community, but also to the population in the area; and at the same time, it is a way of learning more about the beauty of classical music. If you are interested in volunteering at the Notre Dame radio station, please contact Peter Farrough.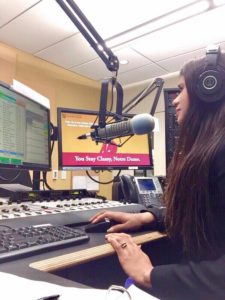 I also collaborate in the Read Baby Read (RBR) Program, at the Notre Dame Center for Arts and Culture, which instills kindness very early in kids' lives while they get familiar with another language and culture through listening to short stories and songs in English and Spanish. I think it is important to teach kids about how fun and good it is to be part of the diversity that exists in the world; so I consider that they should get involved with other ethnicities and cultures from an early age. This teaches solid and kinder principles to them; and as a result, they would have a friendly and a more positive interaction with society. If you are interested in volunteering at Read Baby Read, please contact Toni Fein or Jennifer Wittenbrink Ortega.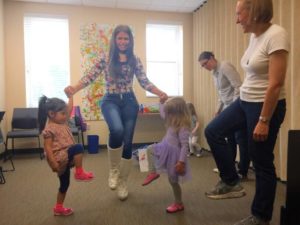 I also cooperate with the Victim-Offender Reconciliation Program (VORP) at the Elkhart Center for Community Justice, where I volunteer as an interpreter and translator for the Latinx community. I also offer my services as a mediator, for which I completed a training course. At VORP, we use a community-based vision of justice to help bringing victims and offenders to an agreement that benefits both parties: the offenders get an opportunity to demonstrate their repentance while avoiding further punishment, and the victims get fair restitution. Through communication, both victims and offenders, should see things from the "other side of the fence." It is important to make it clear that people's generosity is not to be abused, and that there cannot be lasting peace without justice. If you are interested in volunteering at Center for Community Justice, please contact Anne Lehman.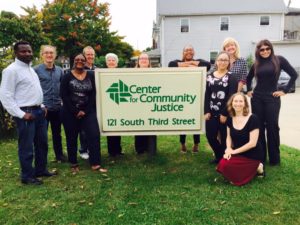 Also, I am a Spanish volunteer at the Holy Cross Catholic School, in a Two-Way Immersion Program in conjunction with the Institute for Latino Studies and the Alliance for Catholic Education at the University of Notre Dame. Programs like this, teach and train kids from pre-kinder to be bilingual (English and Spanish). This will give them better opportunities in the world in general, as it is globally connected, and it gets more and more competitive; so the earlier the kids get prepared for it, the better it will be for them. Besides, the children, at the program, are instilled very good values and fine principles, in both languages, which will definitely influence their lives positively. They are good hearted people and they surely will always be successful. I strongly believe that instilling a good foundation of values and a bilingual education to kids in their early ages will be a very useful combination for their lives. This way, I believe that they would be prepared to create a much better world for themselves, for those around them, and for society in general. If you are interested in volunteering at the Two-Way Immersion Program, please contact Katy Lichon.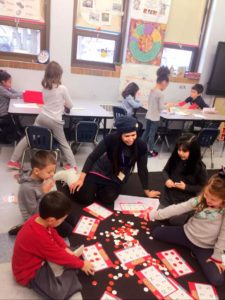 Lastly, I also volunteered as a Co-Mentor and as the Spanish interpreter and translator, in the Reading for Life (RFL) Program at the South Bend Juvenile Justice Center (JJC), an alternative to jail for juvenile delinquents. The program would see offenses by the youth as the result of a "breakdown in moral development." Delinquents are usually victims of their own environment; thus, young people should be exposed to better circumstances such as this program, where they would practice reading while learning about the seven virtues: justice, prudence, temperance, fortitude, fidelity, hope, and charity. It was important to show these young teenagers that there was hope in a world where things functioned in a different way from what they had been exposed to. It was very encouraging to learn that the program had a 97% success rate in keeping kids out of trouble. I believe that young people need to be given a second chance as we all make mistakes, especially when immature or inexperienced.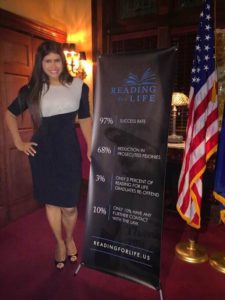 Even though this program was very successful, it sadly ended by June 2018. I hope that at some point this program will be continued and that way it could be again that light of hope for those young people who may need help. This experience was one of which impacted me the most, because of its effectiveness and all the positive changes I could notice in the teenagers who were able to complete the program. I would even like to promote the development of programs like this one in countries like mine. Programs like these do work because are based on sound principles and good research. I think people should believe that there is always hope that things can improve, as the feeling of hope is what really drives us to try harder.
In conclusion, as Mother Teresa said, if we were all able to unify our abilities and efforts, we could do great things and thus achieve many benefits for our communities; and in that way, we would all have a better world. Volunteering is part of that, and speaking by my own experience, it has surely changed my life forever. It has taught me to value what is really important. The general concept of volunteering is to give your time without receiving anything in return, as well as transforming the lives of others with your contribution. However, based on my experience, I can say that it has been the opposite, I feel that I am the one who has learned the most from the others. I also believe that my life has been the one that has received the most positive transformation; not only by the organizations in which I volunteered but also and especially by those people to whom I have directly provided my volunteer service. I cannot describe the amount of gratitude that my heart holds for each person and institutions that have been part of this rewarding and so meaningful experience. Thanks to every one for enlightening my life even more. Volunteering, definitely, is something that lifts and enriches our spirit and embellishes our soul. I had never felt so fortunate before, spiritually speaking, as I feel now. It is simply priceless! Being a volunteer, without a doubt, has been the most inspiring experience of my life. I invite you all to be part of this beautiful experience. It will change your lives too!