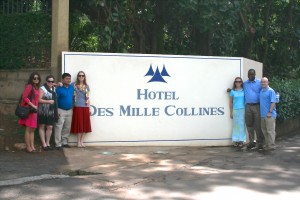 Only a few hours after arriving we were off to an early morning church service followed by lunch at Hotel Des Mille Collines (Hotel Rwanda) with our hosts Catholic Relief Services. We spent the rest of the afternoon at Kigali Genocide Memorial, a heavy and emotional experience. We later went to dinner at Heaven Restaurant in Kigali with Josh Ruxin who oversees the Millennium Development Village in Rwanda.
During our time here Team Rwanda will seek to: identify business opportunities in the agriculture value chain for rural youth in Rwanda.
The questions we will have to deal with include what opportunities would interest the youth? How do we scale the opportunities identified?Over the next several days we are going to test and retest the assumptions we have made in the last few weeks. This will be through rigorous research, and daily evening reviews amongst our selves. In between we will visit more of the genocide memorials,  Akegera National Park, and do the Gorilla Trekking in Ruhengeri.
We have done the thinking and analysis, now we execute and adjust. Come along on this exciting journey.