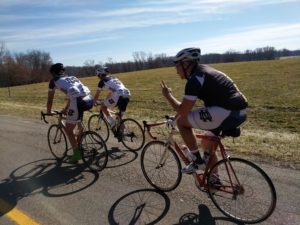 Class: Grad Student
Major: Economics
Hall: Off Campus
Hometown: Cullowhee, NC
Discipline/Category: Road/Men's D/Cat 5
Goals: Contribute as many points as possible toward a conference championship for the team.
Pre-Race Ritual: Sausage, Egg, and Cheese McMuffin with a large coffee combined with listening to Hybrid Theory by Linkin Park in its entirety. Ron would love to be the founding member of the McDonald's Endurance Athlete program.
Palmares: Cycling is Ron's newest athletic endeavor and hopefully he'll have some top finishes to report soon. Ron has transitioned from sport to sport throughout life, yet prides his slow-pitch softball abilities most. He has been a member of various slow-pitch teams including the Cullowhee UMC team in high school, the Auburn Wesley Foundation in undergrad, and various teams in his time at Notre Dame. Ron's greatest softball achievement is going 3 for 4 with 3 home runs in his first 3 at bats followed by being thrown out at home plate in his final at bat in a summer league game at Notre Dame. In his past Ron has also played football, swam, and rowed.
Contribution to the team: a team first attitude primarily due to his past experience in softball, but also football, swimming, and rowing. Ron hopes to utilize this attitude to be the greatest lead out man lower category racing has ever seen.
Life off the bike: Ron's an active member at South Bend City Church, invested in the continued development of South Bend, and enjoys cycling trips with his best friend Ryan Whitmore. Ron hopes to beat Ryan up some mountains around Appalachia and the South East after this season is finished.
Victory Celebration: Hug his mom, which she will only be at the Louisville races so he has a steep challenge in his first weekend of racing.