Pedagogy and the Practice of Freedom: Dismantling Oppression in the Literature Classroom
In Teaching to Transgress: Education as the Practice of Freedom, bell hooks called on us to practice a pedagogy that liberates our students (and ourselves) rather than one that reinforces systems of oppression. Almost 30 years later, this kind of transgression seems as urgent as ever for those of us who teach literature, a subject shaped by colonialism and racism but also one that helps us imagine new worlds and new ways of being. Through this series, we aim to confront the legacies of colonialism and racism in literary studies, to consider how our pedagogical practices might be complicit in systems of oppression, and to gain tools for implementing more liberatory teaching practices going forward.
This lecture series is being offered by the graduate students of the English Department's Decolonial Working Group, sponsored by the Institute for Scholarship in the Liberal Arts and the Department of English.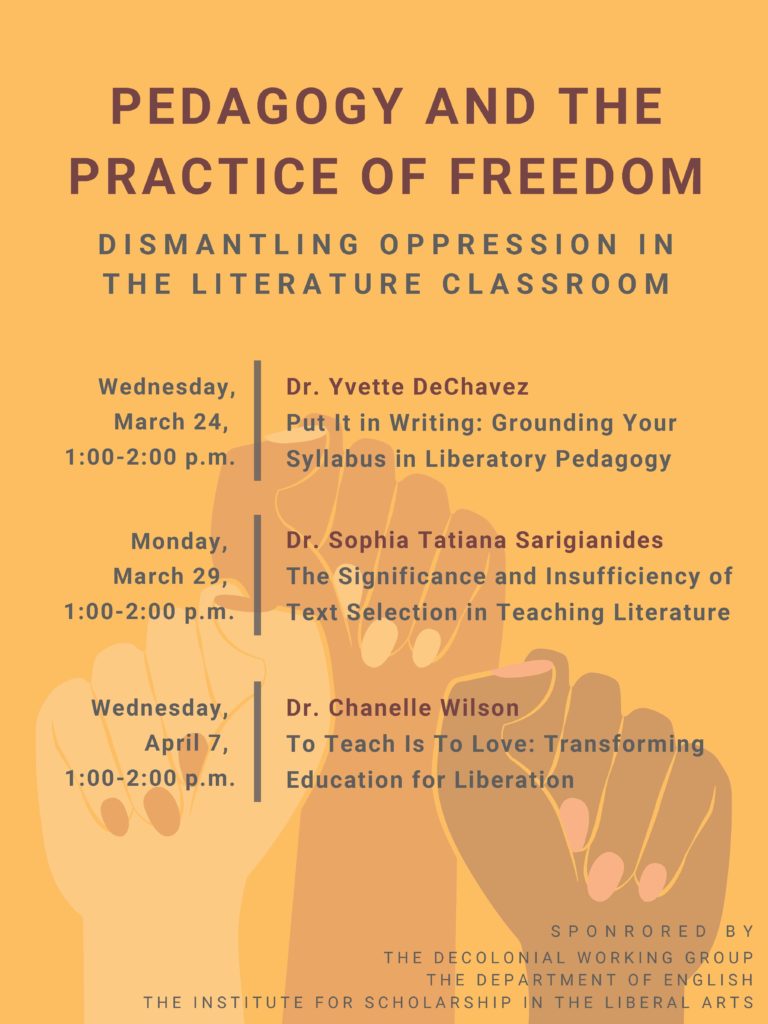 Spring Lecture Events
Dr. Yvette DeChavez, "Put It in Writing: Grounding Your Syllabus in Liberatory Pedagogy," Wednesday, March 24, 1:00-2:00 p.m.
Dr. DeChavez is a Latinx writer, artist, and educator from San Antonio, Texas. A first-generation college graduate, she earned a PhD from the University of Texas at Austin, studying contemporary BIPOC literature and performance. Her work focuses on anticolonial and antiracist pedagogy in academia. Dr. DeChavez currently works at Huston-Tillotson University in Austin, Texas–the oldest institute of higher learning in the city and its only HBCU.



Dr. Sophia Sarigianides, "The Significance and Insufficiency of Text Selection in Teaching Literature," Monday, March 29, 1:00-2:00 p.m.
Dr. Sophia Tatiana Sarigianides is Professor and Coordinator of English Education at Westfield State University in Western Massachusetts where she teaches courses in young adult literature and literary methods to teachers and teacher candidates. Together with Carlin Borsheim-Black, she is the author of Letting Go of Literary Whiteness: Antiracist Literature Instruction for White Students. Additional research interests include conceptions of adolescence in young adult literature and in teacher and student thinking; racial melancholia in literature and in teaching; and more recently, applying cultural understandings of class to texts. She has published in Educational Theory, Curriculum Inquiry, Journal of Literacy Research, Journal of Youth Studies, Journal of Adolescent & Adult Literacy, and English Journal.

Dr. Chanelle Wilson, "To Teach is To Love: Transforming Education for Liberation," Wednesday, April 7, 1:00-2:00 p.m.
Dr. Chanelle Wilson is an assistant professor of education in the Bryn Mawr/Haverford Colleges Education Program, and the director of Africana Studies at Bryn Mawr College. Chanelle has served as a public school practitioner, teaching secondary education students, in the U.S. and around the world. She enjoys facilitating knowledge in a way that encourages personal connections, promotes critical thinking, highlights contemporary relevance, and necessitates justice. Her current scholarship focuses on race and anti-racism in education, decolonization of schools and the mind, students as teachers and learners, culturally relevant pedagogy in international schooling contexts, and abolitionist education in K-12 settings. Chanelle has a passion for using research to improve the educational experiences of marginalized groups, promoting equity and critical race-focused conversations: her life's goal is to rethink, reimagine, and revolutionize education to meet the needs of all children.

"Pedagogy in Practice: Workshopping Inclusive Teaching Materials," with Alex Oxner, Monday, April 12, 1:00-2:00 p.m. (graduate students only)