Faustin Amilcar, my dear friend, died right before the New Year.  He would have been 97 years old this month. He didn't have a chance to drink soup joumou.  As, Yves, his cousin and research collaborator averred, Tenten was the last of a generation.  He was the 43rd of Titè's 44 children to pass on.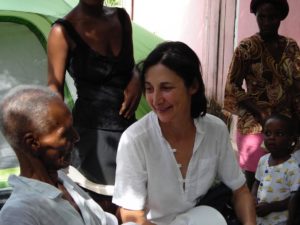 This photo was taken when I returned to Ti Rivyè in 2010 after a two-three year absence.  I was never happier than when I returned to Ti Rivyè from the U.S.  I am so fortunate and glad for my visit two months ago in November.  On the last day, Tenten asked when I was coming back.
T: Ou ap vini pou Karèm?
K: Non, men m kab vini nan Jen, Jiyè.
T: Jen o Jiyè?
K: Wi.
T: Si ou pa vini m ap mouri!
We laughed.