Controls on arctic tundra phenology and implications for carbon cycling and ecosystem function
Phenology describes the timing of life cycle events and how these events are influenced by seasonal and interannual variations in climate and biology. In the arctic, vegetation phenology includes spring greening and autumn senesce, which influences the seasonal timing of carbon cycling, energy fluxes, and animal and insect activity. The controls on arctic vegetation phenology are poorly understood due to a lack of data and predictive models.
In this project, we will develop models to predict how arctic phenology responds to environmental factors using high temporal resolution incident and reflected radiation collected at "phenology stations" around Toolik Lake, and remote sensing data from the Moderate Resolution Imaging Spectroradiometer (MODIS) satellite. Models will also be developed to link vegetation phenology to carbon and energy fluxes in order to facilitate large scale estimates of these processes.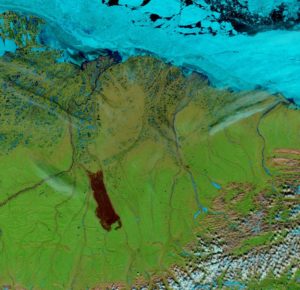 MODIS Image of North Slope Fire Scar
We welcome collaboration on this project, and data from the Imnaviat phenology station can be found here.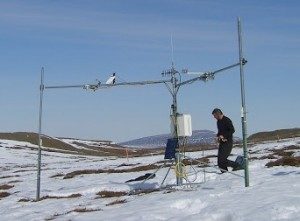 Imnaviat Radiation Tower