By Chris Donnelly
Having said our farewells to friends and family, it was time to embark on this awfully big adventure. The cast were rather delighted to be chauffeured from Chicago's O'Hare airport to South Bend in a limousine!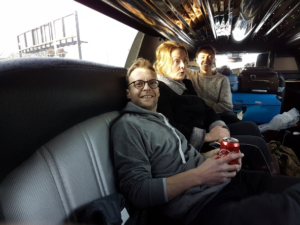 For me personally, it was my fourth trip to Notre Dame and, as ever, Scott, Deb, and the new recruit, Jason, made us all feel incredibly welcome, and we were wined and dined in great style…. several times, actually!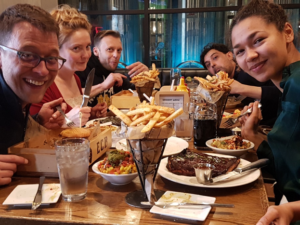 Amidst this wonderful socialising, there were various administrative duties and the final tweaking of rehearsals to complete, building up to the actual tour.
Coming to this stage, Lizzie (Katharina) especially was ever-more morphing into her character – she couldn't even go to a restaurant without full costume!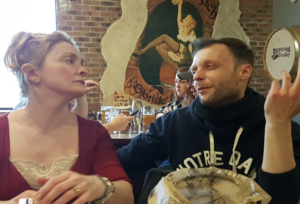 We'd looked at the play from every angle…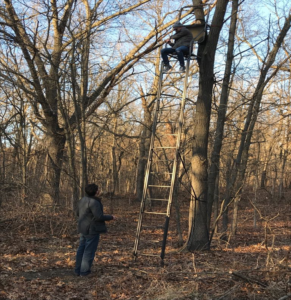 And though there were times when it was almost too painful to continue…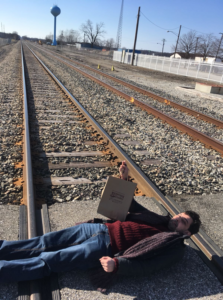 We were almost ready to go!
Once again, I was extremely impressed by the campus and the iconic golden dome therein.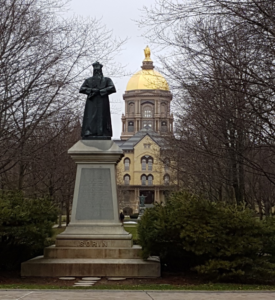 Although none of us were particularly impressed by the foul weather. Coming from England, we have quite enough rain!
However, it didn't stop our enjoyment. One of the major highlights of our early time on tour was having the opportunity to watch Notre Dame's ice hockey team play a competitive match in front of over five thousand spectators.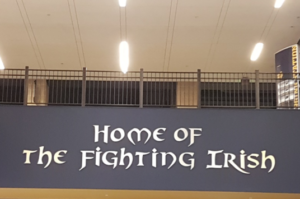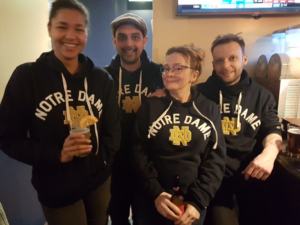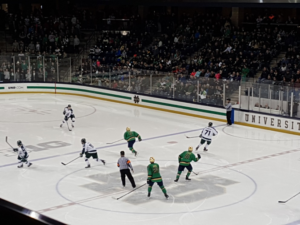 Unfortunately, I think we proved to be something of a jinx, seeing as the team had been doing extremely well and were indeed at the top of their league. Additionally, their opponents, Michigan State University, were languishing at the bottom. Yet the result was a 4-3 loss. This in no way tarnished the experience, however. The levels of skill, the involvement of the crowd, the organ playing, the marching bands – such a wonderful experience!
However, we all wholeheartedly agreed that the most incredible experience of our time at Notre Dame was when we were fortunate enough to have our only preview of Shrew before approximately one hundred and sixty inmates at the Westville Correctional Facility.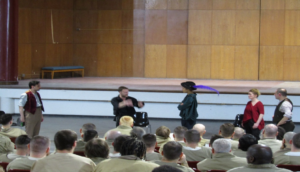 It was, from first to last, a unique and most humbling experience and although I had been there two years previously, I was once again moved to tears as the play ended and the audience instantly rose as one to give us a standing ovation.
As we were packing our one suitcase of props and costumes, one of the chief administrators passed a message from the inmates saying that for a couple of hours, they had been transported in their imaginations out of their life circumstances, and into another world beyond their present confinement.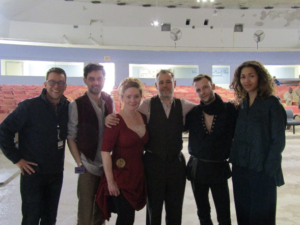 I remember these moments: the inmates' total focus on the show, their absolute enjoyment of the comedy, their reaction to the more serious moments, their seeming understanding of the whole story throughout, the light in their eyes. As I remember the huge security and the bars sliding shut tight behind us and the fact that we had the absolute freedom to leave that place and go and enjoy a wonderful meal at our leisure, there is only one word I can think of to encapsulate the myriad of emotions it all elicits – humbling. It was a wholly humbling experience.
It was an experience that Evvy and I had the privilege of repeating the following Friday, when we ran a Shakespeare workshop for a small group of the inmates who are presently part of a college credit programme, instigated and run by Scott Jackson at Notre Dame, pictured with the cast above.
We saw them commit so truthfully their whole being to some seminal Shakespearian speeches. The three hours simply flew by. Then, at the end of the session, one of the inmates shared with us what he felt was so magical about seeing the preview of Shrew. It was the fact that a full range of human emotions were brought to them, many of which are lost in a prison wing.
"You operate with maybe two or three emotions to survive here. But you guys brought everything and that reminds us of what it is to be human and it gives you hope for the future."
There is little you can say in response to this.
The majority of the second week was dedicated to our workshops for various departments at the university, which were great fun and building to the first three full performances in front of an audience at the Washington Hall theatre space – so wonderful to be performing there again.
As an ensemble, we felt that we didn't want to shy away from the more difficult themes in the play, but to actively embrace the darker elements and play them to their maximum, be it uncomfortable for an audience or not. I do believe that this decision only serves (we hope) to enhance this fascinating piece of theatre and therefore give a fuller and richer experience to the viewer.
This decision was vindicated by the audience reaction to the shows. They were well received and still with lots of laughter at the high comedy in the play, especially on the final performance.
So, we have left the security of base camp at Notre Dame and are embarking on our travels. Next stop the University of Wisconsin, Green Bay. Well, that is, after a weekend in Chicago, which I will share little about. But suffice it to say…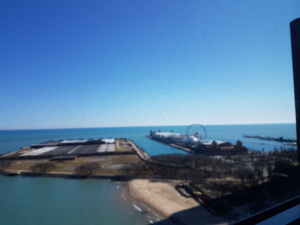 …this was the view from my hotel room!