By Chris Donnelly
Our week's residency here at Brigham Young was nothing short of extraordinary for a variety of reasons. Sadly, it began in a very inauspicious manner.
Our Monday travel days are often a tiring, arduous affair; however, this journey was particularly stressful.
We were up at silly-o'clock to say goodbye to wonderful Zoltan and leave Vassar. However, the first of our two flights was delayed by an hour. This meant that we would have a matter of minutes, on arriving at O'Hare airport, Chicago, to get our connecting flight to Utah.
Of course, it was not made easier by the fact that we arrived at terminal F and our connection was the extreme far end of terminal B. Officially, we had two minutes before they closed the gate and the next flight was not until 7pm that evening. If anyone has any knowledge of the size of Chicago's major airport and therefore the distances involved, you will understand the magnitude of this challenge.
Suffice it to say that we all did our very best impersonation of Usain Bolt at the absolute peak of his powers, with a following wind, running downhill and got there, a heaving mass of sweat and hold bags, just as they were closing the gate.
Having gone into post-sprint shock, followed by several cardiac arrests and a lung transplant, we were finally calmed by the stunning views we beheld, as we began our descent into Utah. It was obvious to see that we were entering into an unique landscape of breath-taking natural beauty. As the first couple of many pictures of this blog testify…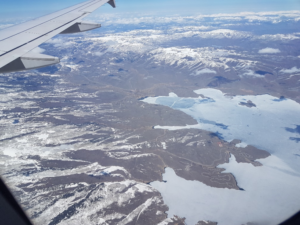 Here is a view of the mountains and the lake from which Utah's major city derives its name.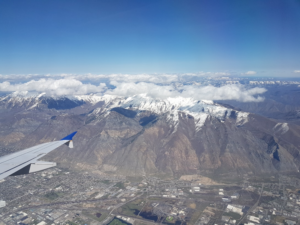 And here the glorious snow-capped mountains that surround Salt Lake City.
After the aforementioned trauma, we were very pleased that the journey to Provo at the other end was perfectly perfunctory, the hotel and the hotel rooms lovely. Unusually, the faculty meeting would not be until the following morning, so it was delightful to have the evening free to explore the downtown and have a good feed.
My personal experience of working for AFTLS and the all-encompassing nature of the work you are immersed in, means that I rarely look too far ahead, with the odd notable exception. However, this was one such exception.
I had scant knowledge of the tenant of the Church of the Latter-Day Saints, apart from the fact that Utah was its home and often named a Mormon state. This and the image of the occasional two smartly dressed, extremely polite Americans carrying out their missionary work in the UK when I was growing up.
However, we were previously informed that the university would be alcohol and coffee free and moreover, that the state as a whole largely followed the same tenet.
This, in all honesty, was a topic of conversation that became more and more prevalent the nearer the week came. Without, I hope, being disrespectful to their religious beliefs and proclivities, actors, for the most part (and certainly for we five's part) like coffee and alcohol.
Imagine our relief and delight, then, that on venturing to the pretty downtown, with, it must be stated, its most spectacular mountain-scape backdrop…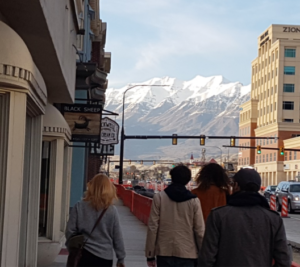 …we fell upon (purely for medicinal purposes, you understand, to calm our frayed nerves!) a fantastic bar, called ABG'S, which was to become our spiritual home for the week.
So, after a rather protracted i.d checking process, we had a couple of glasses, put a few tunes on the classic jukebox and enjoyed a few frames of pool…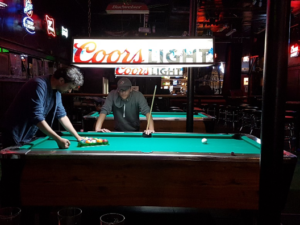 After this we became ravenous (Evvy's perpetual state, it seems!) and again we were delighted to discover a delightful Indian restaurant…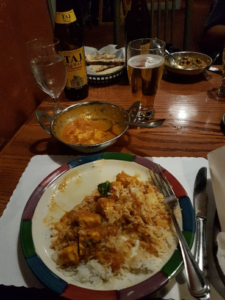 ….which made us all extremely happy!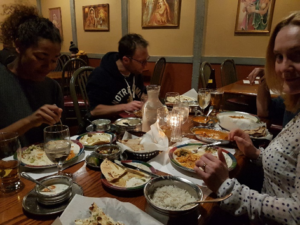 So, tired but sated, the traumatic travel day done, we all retired for a good night's rest in anticipation of the working week.
You would be a very hard person to please if you didn't enjoy the view on opening the curtains the following morning!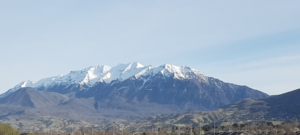 The campus…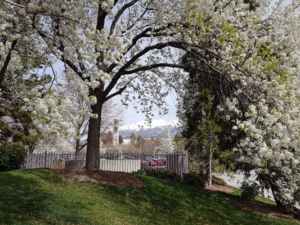 …was equally pretty!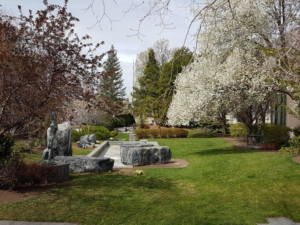 By virtue of that fact that this was an extremely light week of workshops, although a heavier one in respect of the number of shows we were to perform later in the week, the faculty meeting was a brief affair, after which I had an interview with the Provo Daily Herald. Here is the link to the article.
This free time gave we intrepid travellers good opportunity to explore the surrounding area and we made good use of it. We had a wonderful drive around and eventually arrived at Deer Creek State Park.
We got our stride going and proceeded to walk up the mountain for several miles. As you can see, the views were wonderful!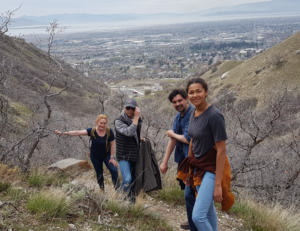 We only contemplated stopping when we found snow!
This was followed by another visit to ABG'S, before we attended a wonderful concert, by the BYU Philharmonic, entitled "Happy 100th, Leonard Bernstein!" This was very kindly arranged by our lovely administrator, Bridget Benton. We were all extremely impressed; considering the majority of the students were not professional, the standard was extremely high!
The following morning, I had a wonderful workshop with Junior and Senior acting students. They performed duologues from Chekhov's The Seagull and Uncle Vanya¸ Ibsen's The Doll's House and The Enemy of the People and George Bernard Shaw's Arms and the Man. We then re-worked moments and a good time was had by all!
Once again, our group met for a social in the evening at our neighbouring hotel. It was very interesting for us to note that state law dictates that wherever alcohol is to be served, food has to be purchased and brought to the table in advance of said alcohol, or else the establishment's licence can be revoked.
The majority of food available was… cake. So it was that over a two-hour period we amassed…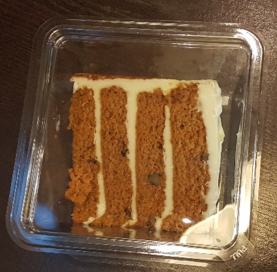 …cake…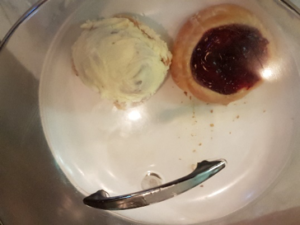 ….more cake….and finally…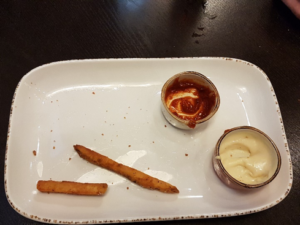 Perhaps now would be a good moment to return to my staple subject of Meteorology.
As stated in previous blogs, we Brits are no strangers to changeable weather. However, Utah, or Provo at least, takes it to a whole new level in Springtime. The Wednesday was beautiful, clear blue skies and twenty-three degrees – just what the doctor ordered.
We were, therefore, vey unprepared for waking up on Thursday morning to find the following vista…
By lunchtime it was all gone and we were back to this…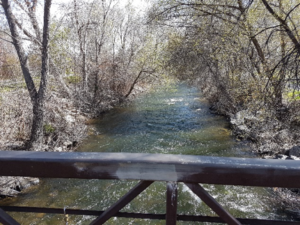 And so to the shows…our first show in the University of Utah theater, which has a five hundred and fifty seat capacity.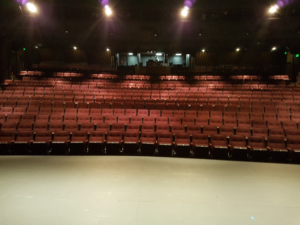 The house was good, roughly two-thirds full; the response to the play, fascinating. There seemed to be a good general knowledge of the piece and we all felt that they got it and were with us from beginning to end. Indeed, it was amongst the most vocal (in a good way) audiences we have played to on the entire tour.
However, there were some definite moments of atmospheric silence (apart from the odd person who couldn't help but laugh) at the more, shall we say, overt sexual moments.
Before the Friday performance, it transpired that a few of the more senior members of the audience, who are patrons to the theatre arts programme, had raised a couple of issues regarding the above and therefore Bridget very politely requested that we extract a couple of moments of business in the remaining performances, which, of course, we did. It wasn't wholly unexpected, but it was interesting to experience, nonetheless.
And undeterred, below, our actors prepared….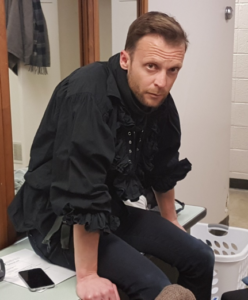 Carl, svelte but strong….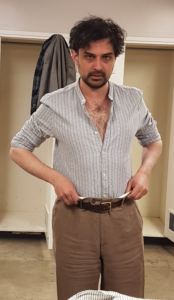 Tom, mean and moody…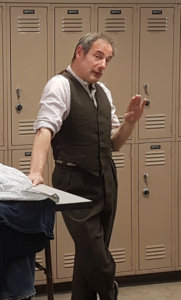 Myself….I have no idea whatsoever!
Of course, never forgetting the team mascot. One of the coconut skins used to simulate the sound of a horse and carriage in act 4, scene 5, but more commonly known as… Shrew!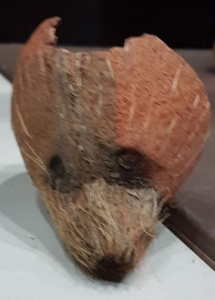 There were still moments whereby we felt shifts in atmosphere at certain other moments in the play that we weren't asked to tamper with, however, the houses and the general reaction to the rest of the run was overwhelmingly enthusiastic and positive.
Another new experience for us in this residency was that we had two shows in one day. This is by no means rare in the life of an actor, but it is the only time in my experience of four tours with AFTLS that I have been called on to do so. But it was seized on with alacrity, the job, and the residency, were done.
Which leads me to my final chapter of my Provo blog and our day off.
Rather than use Sunday as a day of rest, we decided to take our two hire cars on a seven hour round trip to one of Utah's premier tourist attractions, the Arches National Park.
Here I become lost for words – I am no Shakespeare! Someone did once write that a picture speaks a thousand words…and therefore, I will let the pictures do the talking!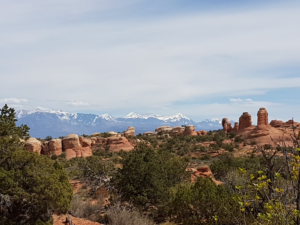 And so….to Hawaii!!