By Chris Donnelly
Having crossed from Eastern to Pacific time and added three hours to our travel day, therein, we arrived in Los Angeles airport, LAX…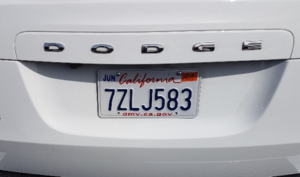 I was compelled to take a picture of our hire car number plate; perhaps because the California signature seemed so iconic to me, or perhaps it was that I was overtaken with such euphoria because we felt warmth for what seemed the first time in years!
We were met by our delightful administrator, Gordon Dossett, who led us to our hotel on Pico Boulevard, with its beautifully quaint courtyard…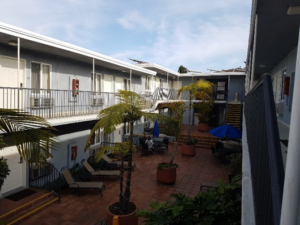 …which we put to good use throughout the week!
The hotel was conveniently located for our week's residency at Santa Monica College, which we all agreed was a lovely campus…
Often, after a very early start and a long day of travel, there is a great desire to unpack and simply acclimatize to the new surroundings.  However, there is the obligatory faculty meeting to discuss the week's workshops to attend first, and on this occasion, it was a lovely experience. There was a great energy and enthusiasm from the lecturers in the room and the meeting done, we were treated to a very fine Mexican meal at a restaurant across the road from our hotel.
On Tuesday the workshops began. The college does not offer four-year degree courses, rather two-year study, similar I believe to the colleges of further education in England that have foundation courses and the like. Whatever the course, we were all impressed by how bright and proactive the students were. All five of us had great experiences with them and we were all thrilled that a good number of them came to see the show – sometimes more them once!
Indeed, to further emphasize the enthusiasm and passion the tutors had for all things Shakespeare, here is a picture of the English lecturer Jason Bostick, whom I ran two workshops for…
With regard to the shows themselves, we were playing their studio space which was in a thrust configuration. It was the first time we had played to anything other than proscenium arch, so there were various alterations that we had to adapt to in the staging of the show.
However, rather than it being inhibitive, it was actually very liberating and the proximity of the audience in this intimate space gave the performances an extremely interactive and playful feel; although in such intensity it was rather hot on stage and it felt like there was a distinct lack of oxygen!
There was a Q&A after the second performance, which was extremely well attended and almost inevitably the majority of the debate centered on Katherine and Petruchio's relationship, his treatment of her and of course, that climactic speech at the end of the play.
Aside from the wonderful working side of the week, we were all delighted with the warmer climate and Santa Monica in general (although there were still a couple of days of rain!) and we certainly made the most of it…
Here's Carl and Evvy, just chillin'…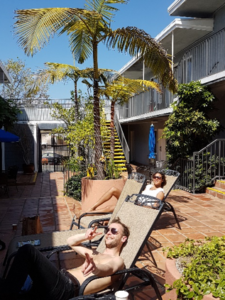 And this is the view of Santa Monica from the rather swish Huntley Hotel cocktail bar…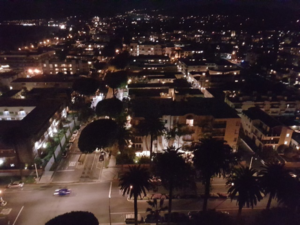 Here is a picture of the team, with addition of the founder of the feast, Gordon and minus myself, for obvious reasons…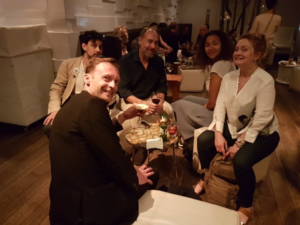 (There is an ongoing joke between the cast that whatever and wherever the picture, Tom always looks photoshopped in!)
And here is Venice beach in all its beauty…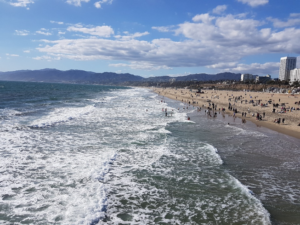 In general, the response was overwhelmingly positive and Gordon and his fellow lecturer, Perviz Sawoski, emphasized this by taking us out for another meal on the Friday evening! They could not have been more gracious and generous hosts and they stressed severally how keen they were to have AFTLS back again as soon as they possibly can.
So we must have been doing something right!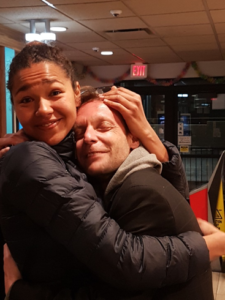 And so, in good heart, good cheer, and warmth, we intrepid Shakespearian warriors sally forth to downtown L.A and the Shakespeare Association of America annual conference…. huzzah!