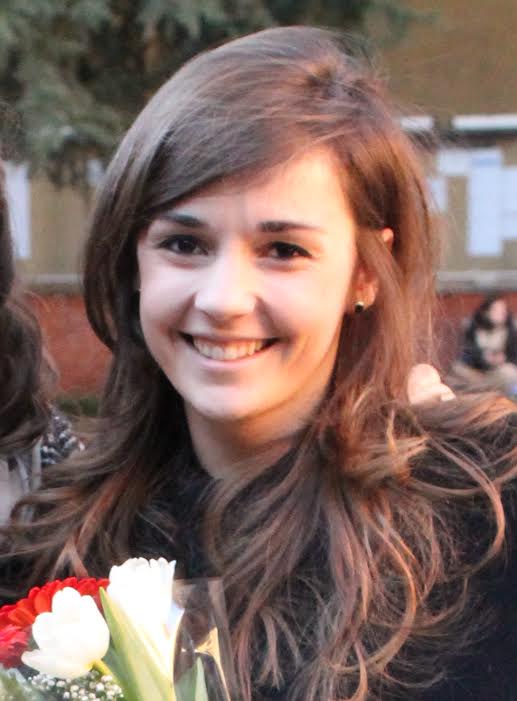 Name: Anna Vincenzi
E-mail: avincenz@nd.edu
Language: French
Location of Study: France
Program of Study: Alliance Française Paris Île-de-France
Sponsors: Center for the Study of Languages and Cultures, Kellogg Institute for International Studies

A brief personal bio:
My name is Anna, I am 25 years old and I am Italian. I got both my BA and MA degree in History and Italian Literature from the Università Cattolica, Milan. I am now a first year PhD student in the History department at Notre Dame. My field of study is Early America, the American Revolution, and the Atlantic world in the eighteenth century.
Why this summer language abroad opportunity is important to me:
My dissertation project will focus on the Corsican patriot Pasquale Paoli (1725-1807). I intend to reconstruct Paoli's political activity and ideas, and to understand how his image was received in North America during the American Revolution. The greater part of the sources relating to Paoli are manuscripts written in French, located in Corsica and Paris. For this reason, it is imperative for me to become fluent in French. Moreover, I strongly believe that improving my French speaking and writing skills will be a critical step in my career path, since it will make me able to direct my studies to a broader public. It would be extremely limiting for someone in the field of Atlantic history not to be able to communicate with her French colleagues. I am confident that an intensive language course and a full immersion in a French-speaking environment will be a strong start to bring my linguistic skills to the level of proficiency needed for my professionalization.
What I hope to achieve as a result of this summer study abroad experience:
I have a basic foundation in French on which to build. I audited a beginning French class while doing my MA in Italy, and I used some pieces of French historiography while working on my MA thesis. My reading skills have allowed me to gain general comprehension of the content of the books, but my vocabulary is currently too limited to fully grasp as much nuance as I need to conduct original research. In order to be able to read manuscript sources from the eighteenth century my French needs to improve considerably. I intend to take advantage of the opportunity that SLA has offered me to become more fluent in both my oral and written French, to become faster in reading, to notably increase my vocabulary, and to get a better confidence of grammatical structures. I also hope that the immersion in a French-speaking environment will help me improve my pronunciation.
My specific learning goals for language and intercultural learning this summer:
At the end of my summer study abroad, I will be able to rapidly read books and articles written in French in my field of study.
At the end of my summer study abroad, I will be able to present and discuss my dissertation project with French native speakers.
At the end of my summer study abroad, I will be able to approach and understand French manuscript sources from the eighteenth century, even though with some slowness.
At the end of my summer study abroad, I will be able to confidently relate to French speaking people in the normal conversations of everyday life.  
My plan for maximizing my international language learning experience:
I intend to enroll in a six weeks intensive course of "Français général" at the Alliance Française based in Paris, starting in the first week of June and concluding with the second week of July. The intensive course of "Français général" is structured in 20 hours of classes per week, from Monday through Friday. Classes are offered in both morning and afternoon, and I intend to take advantage of the second option in order to be able to devote the mornings to research for my dissertation project. In addition to the intensive course, during the month of June I will also take part in evening workshops on Oral and Written French which the school holds twice per week (for a total of 4 hours per week). Moreover, every week the school organizes a variety of free extracurricular cultural activities for its students and I will be more than happy to take every opportunity to practice French and acquire a better knowledge of French history and culture.

Reflective Journal Entry 1: 
I arrived to Paris one week ago, and I am now starting the second week of classes. My arrival was somehow traumatic… even for an Italian like me, when the French people talk fast, or when they speak among themselves, it is almost impossible to understand what they say! However, I notice that after only one week my capacity to understand has greatly increased!
Under this respect, the French course that I am taking is very helpful. I am taking an Intensive Language Course at a small school called "Atelier 9." The school is really good. We are only 7 people in my class, and therefore we often have occasion to speak in class. My professor is young and very good. She is able to keep us attentive and engaged for four straight hours every morning. She alternates exercises about grammar and vocabulary to more relaxing exercises based on French songs or movies. What is most important, she has NEVER spoken a language other than French in class. Even when she has to give us the definition of French words, she explain their meaning in French, she always tries to avoid jumping to the English translation. In addition, from the very beginning, she has always asked us to speak French in class.
So far, one of the biggest difficulties for me is the pronunciation. Last week my school offered an evening workshop specifically on pronunciation, and we spent three hours just doing exercises about the pronunciation of the letter R. It was great, and helped me be more comfortable while speaking. I always felt ridiculous while trying to pronounce the French R! At school, they taught us some tips and exercises to learn how to pronounce it correctly. Now, when I go to school by bike in the morning, I always read out loud the advertisements that I see along the road and the banner of the shops to practice my pronunciation. It's probably hilarious for the people that bump into me along the street, but I feel that I get more comfortable everyday.
Reflective Journal Entry 2:
I have spent another week in Paris. I love the city and my French is slowly making progresses. A couple days ago I went to the Sorbonne and I registered to the university library speaking uniquely in French with the woman at the registration desk! Now I go to the Sorbonne every afternoon and study there until dinnertime. I read books concerning the topics of my PhD research, and I usually try to select readings in French so that I can keep practicing my French outside school hours.
This weekend I went with some friends to visit the Opéra Garnier. The building is really impressive and I would love to go see a play there, but the main reason why I wanted to go visit it is that Chagall painted the ceiling with images representing several composers. I had prepared a small presentation of the ceiling in French for my friends, so that I could take advantage of the occasion to practice the language… Hopefully they understood at least something of the ceiling. After that, we walked to Place de la Concorde and from there to the Tour Eiffel, and we had a pic-nic under the Tour in the night. On thing that I found our in the last two weeks is that pic-nics are really popular in Paris. Every evening thousands of people have picnics along the banks of the Seine river, or under the Tour Eiffel. On the one hand, it is convenient because restaurant in Paris are always kind of expensive. On the other hand, there's nothing better than a baguette with two or three different kinds of French cheeses and a bottle of wine!
Reflective Journal Entry 3:
After three weeks of French language classes my French is quite good. I am able to have an elementary conversation with a native French speaker, and I understand everything that Manon – my French language professor – says. I can also read quite rapidly French newspapers and books, and this is extremely useful for my research.
Life in Paris is always great. One of my favorite things of being in Paris is going around by bike all the time. Paris has an excellent bike-sharing system called Velib. Velib is much much cheaper than the metro, and is extremely easy to use. At the corner of nearly every street in Paris there is a station where in a few seconds you can leave your bike or rent one. You can keep your bike for 30-45 minutes for free, and then you have to leave it to another Velib station. The system works perfectly, because in 30-45 minutes you can reach almost any place in the city center. For example, everyday I ride a bike from my school, located close to the Opera, to the Sorbonne, in the Latin Quarter. It takes about 30 minutes. I love going around Paris by bike, because this allows you to see smaller rues, minor churches or parks that you would never see otherwise. One of my favorite things in the city are some narrow streets on the side of the major and more important ones, and I would never see them if I was going around the city my metro or by bus. In the very first days, I got lost almost every day going from the school to the Sorbonne. Paris is huge and, in most areas – the ones that where not remodelled between the Seventeenth and Eighteenth centuries – has the structure of a medieval city, with a lot of minor streets that run diagonally from a center. To make no mistake, it's nothing like the perfectly reticulated structure of New York and many other American cities. Going around Paris by foot or by bike is not easy. However, after a few weeks I am able to orient myself fairly well, and therefore I now try to take different paths every day, in order to explore new areas of the city.
Reflective Journal Entry 4:
Reflective Journal Entry 5:
Reflective Journal Entry 6:
It was sad to say goodbye to the professor and the people who lead the school on the last day of classes. This last week of classes was very good. By now, we are able to have discussion in class, and we spent most of the week reading articles from newspapers and debating about current news. However, the last day of classes was not really an "adieu" to the school, as with my professor and classmates we arranged to go see the Bastille Day fireworks together on July 14th. It was one of the most amazing things I have ever seen, and I would suggest anyone to visit Paris in July just to be there on that day. In the morning, I went to the Champs Elysees with a couple of friends to attend the military parade, which they say is one of the largest in the world. It was very impressive for me to observe how much the French Revolution is still at the hearth of French national consciousness. Then, in the afternoon, we went for a picnic at the Champs de Mars, and we waited there for the fireworks display that started at around 11pm, and was spectacular. It was about 45 minutes of fireworks, and the most beautiful I had ever seen. The whole display combined fireworks with music. Every year the organizers choose one theme, and this year it was "Paris accueille le monde." Fireworks were accompanied by musics from traditions from all over the world. It is impossible to describe how spectacular the fireworks were, but the whole time that I spent in Paris would have been worth it just to be there on that day! The best way to conclude my experience of studying abroad!

Reflection on my language learning and intercultural gains:
My experience in Paris allowed me to effectively achieve the learning goals that I had defined before my departure. I am now able to easily read texts written in French, and to have a conversation with a French-native speaker on daily-life topics. My ability to understand a French-native speaker has increased considerably. Even though I am still unable to grasp every single word in a conversation with a native speaker, I can fully understand the general meaning of what the other person is saying. In addition, it has been very interesting for me to observe the teaching strategies enacted by the professor, and to see how she integrated the study of grammar into a Communicative Language Teaching approach. I could observe that the study of Italian, Latin, and Greek grammar that I did in high school in Italy gives me a great advantage in learning a new language, but I also appreciated the value of a CLT method, that has given me the ability to immediately communicate with French speakers on a daily-life basis, and to increase my vocabulary by "using" the language.
Reflection on my summer language abroad experience overall:
My experience in Paris has allowed me to learn a language as well as to get to know more of the French culture and society. It has been particularly valuable for me to observe in person the product and utmost effects of the history that I study in my research. In particular, it has allowed me to observe in what degree and tones the French Revolution is still celebrated in France nowadays, how it is conceived and how much its outcomes still effect French society. It has allowed me to reflect on issues connected to diversity among cultures and ethnicities, and to observe how those issues are dealt with in France – as compared to the US or to Italy, for example.
How I plan to use my language and intercultural competences in the future:
The linguistic competences that I have gained during the time that I spent in Paris will be extremely valuable for my research and my classes. Over the next year I will take a class on the historiography on France between the seventeenth and eighteenth century up to the Revolution, and I will read books and articles in French. During my research for my dissertation, I will need to read primary sources in French (eighteenth century journals and private papers), and I will certainly need to go back to France to do research. I also intend to audit an advanced-level French language course at Notre Dame to keep on practicing, and to enroll in the online French course "Babbel."