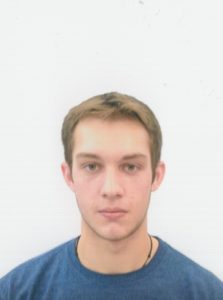 Name: Nicholas Gerstbauer
E-mail: ngerstba@nd.edu
Language: Japanese
Location of Study: Hakodate, Japan
Program of Study: Hokkaido International Foundation Japanese Language and Culture Program
Sponsors: Center for the Study of Languages and Cultures and the Liu Endowment
Blog URL: http://sites.nd.edu/sla2016/author/ngerstba/

A brief personal bio:
I am rising junior at the University of Notre Dame. I am double majoring in Political Science and Japanese. Following my time at Notre Dame, I plan to attend law school and become a lawyer. I love politics, learning foreign languages, theology, philosophy, music, video games, and video editing.
Why this summer language abroad opportunity is important to me:
Without the SLA grant, I certainly would not have been able to study abroad this summer. Afforded this opportunity, I plan to fully immerse myself in the Japanese language as a part of one of the best Japanese language programs in Japan. With this wonderful and generous grant, I will greatly improve my language studies in a way that is not possible without full immersion. I feel quite blessed to be able to participate in such a unique and amazing experience.
Without the SLA grant, my goals for the future would be much more difficult to achieve. The opportunity to study abroad in Japan will greatly increase my knowledge of the language and country to better help me get a job there in the future.
What I hope to achieve as a result of this summer study abroad experience:
Ultimately, I plan to greatly further advance my language skills to help me achieve my goal of fluency. Through my first year of Japanese at the University of Notre Dame and my second year of Japanese in the rigorous Hokkaido International Foundation Program, I will create for myself a strong foundation upon which I can master Japanese. I doubt that I could achieve my goal without this opportunity.
From this grant, I seize a chance that many miss. I get to master Japanese in Japan! There is no language experience purer or more effective than this. I am very confident in my future because of this opportunity.
My specific learning goals for language and intercultural learning this summer:
At the end of the summer, I will be able to communicate effectively with my host family.
At the end of the summer, I will be fully prepared to spend a full semester at a Japanese university with little to no difficulty.
At the end of the summer, I will be able to travel alone in Japan without Google Maps.
At the end of the summer, I will be proficient in Japanese political and Japanese Catholic terminology.
My plan for maximizing my international language learning experience:
I plan to communicate as much as possible with my host family. As one of the most important aspects of the program, I plan to make the most of it. It would be wonderful if I could help out around the house and learn about the Japanese home lifestyle. Perhaps my host mother could teach me how to cook Japanese food. Perhaps one night, I could even cook my host family an American dinner! The possibilities for immersion are innumerable.
Further, I plan to explore the city as much as time allows. I would love to communicate with as many locals as possible to improve my language skills and to improve myself as a person. I am very excited to reach out once I arrive in Japan.