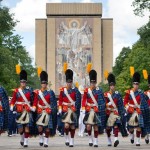 Welcome to the University Relations division at the University of Notre Dame.
Our motto – Relationships for Life –  is reflected in our mission to:
Draw alumni, parents, and friends closer to the mission and values of the University of Notre Dame
Serve as stewards of the University's mission
Provide resources to further the University aspiration to become the Catholic research university of our time
The University Relations division is overseen by Lou Nanni and comprised of the Alumni Association and Development Office.  These two areas work in conjunction to
Deepen the engagement of alumni, parents and friends in life of
Notre Dame
Achieve monetary goals for the current fiscal year
Transform fundraising for University priorities
Establish a culture that is rooted in the University's core values and supports teamwork, innovation and individual performance
Recognizing what makes our work and culture both enjoyable and challenging is an important component of our overall commitment to continuously improve our employees' work/life experience. To ensure that this remains at the forefront of our mission, we have introduced the Leadership is Listening tool as a means to provide feedback as a gift. Employees may provide comments (positive and negative) as much and often as they like.