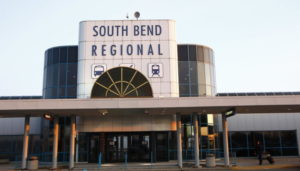 We asked our incoming group of grad students what info they wanted about campus after they've arrived in South Bend. I'm a third year grad student, and I still had to think hard about some of these questions! We all need a bit of refresher sometimes!
What is ND Roll Call?
ND Roll Call (previously known as Web Enrollment) is a required process which informs the University that a student is attending a particular semester. It's different than adding courses to your schedule. You will receive an email when it is necessary to complete ND Roll Call. http://registrar.nd.edu/students/ndrollcall.php
How do I get an ID Card?
To obtain your University of Notre Dame Campus ID Card you will need the following:
(1) Your valid government-issued photo ID (driver's license, passport, or state issued ID card) and
(2) your ndID number (begins with '90') or netID (alpha-based prefix to your @nd.edu account).
Please bring both to the Campus Card Office located in 423 Grace Hall (Campus Map) during the hours of 8:00am – 5:00pm, Monday through Friday.
How do I register my bike?
Register your bicycle with NDSP and display the tag visibly on the bike. Registration is free and can be completed in person with your bicycle at Hammes Mowbray Hall, by flagging down an officer or at one of several registration events held throughout the year.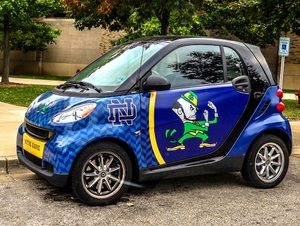 How do I obtain a parking pass?
Start by asking your department secretary as some departments issue parking permits under some circumstances. If needed, head over to the Parking Office located on the first floor of Hammes Mowbray Hall.  The hours are Monday through Friday, from 8:00am until 4:45pm. E-mail: parking@nd.edu Phone: (574) 631-5053
How is pay distributed?
Most students are paid on the first and fifteenth of the month. You can get the details here: http://controller.nd.edu/payroll-services/payroll-schedules/  The easiest way to receive your pay is to set it up through direct deposit. If you get direct deposit at least once a month, you can get a free account from a popular local bank called 1st source.
Where do people hang out around South Bend?
Popular places include- Chicory Cafe, The General (a coffee shop), South Bend Brew Werks, and Crooked Ewe. You often find people hanging out on the river walk located along the Saint Joseph River.
When do you register for classes and find out TA assignments?

For most grad students, registering for classes is not a competitive process. You can go on to Insidend to register for classes. In general, you will want to consult your department's director of graduate studies (the DGS) for details on schedule formulation. The procedure for TAs is specific to the department, so contacting your DGS is a good way to get the latest updates on that as well.
How do International Students get a bank account?
This will depend largely on the particular bank. You will at least need to have a lump sum to open the account. Popular banks an international student may want to establish an account with include 1st Source, Notre Dame Federal Credit Union, and WellsFargo. 1st Source is located in the Lafortune student center on campus.