Guest post by Mandy Havert, Digital Research and Outreach Librarian.
The Hesburgh Libraries recently purchased access to Scopus which delivers a comprehensive overview of the world's research output in the fields of science, technology, medicine, social sciences, and the arts and humanities. The database allows users to make better research decisions, find leading experts and potential partners and maintain a competitive edge.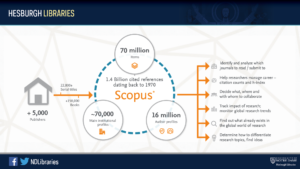 The Hesburgh Libraries will conduct workshops on Scopus which are open to all faculty, staff, postdocs, graduate and undergraduate students.
After an orientation to Scopus, you should be able to answer these questions:
Scopus: What is it? and why would I use it instead of Google Scholar or PubMed?
Can I easily find my h-index in Scopus?
What are the best practices for using Scopus to give my research a boost?
How can I find potential collaborators using Scopus?
How can I use Author Profiles to help me showcase my research?
How will PlumX Metrics on Scopus help me tell the story of my research?
Three 1-hour sessions are offered October 24, 2018. Each session will have a slightly different focus: Engineering, Science, Social Sciences & Humanities. Choose a session that fits your interests or a session that fits your schedule.
10:30 am (202 Nieuwland) Science focus
1:00 pm (231 Hesburgh Library) Social Sciences & Humanities focus
2:30 pm (231 Hesburgh Library) Engineering focus
Unable to attend one of these workshops? You can find tutorials on the Scopus Website: https://service.elsevier.com/app/overview/scopus/
Prefer to talk with a librarian about Scopus? Contact your subject librarian today to ask for more information.
Contact Mandy Havert at asklib@nd.edu for more information.