Click here for the English version of this post.
Escrito por María Agustina Cedeño, intérprete y traductora.
"Usted puede hacer lo que yo no puedo. Yo puedo hacer lo que usted no puede. Juntos podremos hacer grandes cosas"
Madre Teresa
Soy de Ecuador y me mudé a South Bend hace casi cinco años. Una vez en los Estados Unidos y con una visa H4, no tenía autorización para trabajar; pero para mí eso no fue impedimento para mantenerme activa, productiva y, al mismo tiempo, ayudar a los demás. Me gustaría compartir algunas de las enriquecedoras experiencias que he tenido como voluntaria; y así, incentivar a la comunidad de Notre Dame (profesores, estudiantes, personal en general, amigos, y cónyuges extranjeros, como es mi caso) a contribuir con estas causas. Creo que cada una de nuestras contribuciones es valiosa y mejora tanto nuestras vidas personales como la sociedad en general.
Comencé con mis actividades de voluntariado como locutora en WSND-FM 88.9, la estación de Radio de Notre Dame. Mi función allí es la de seleccionar la música clásica que se transmite todos los martes en el "Concierto de la Mañana", así como indicar la identificación y ubicación de la estación radial cada hora. Creo que es una bonita forma de contribuir, no solo a la comunidad de Notre Dame, sino también a la población local; y, al mismo tiempo, es una manera de aprender más sobre la belleza de la música clásica. Si está interesado/a en ser voluntario/a en la radio de Notre Dame, por favor comuníquese con Peter Farrough.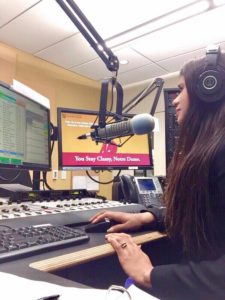 También colaboro con el Programa "Read Baby Read (RBR)", en el Centro de Artes y Cultura de Notre Dame. Este programa infunde bondad desde muy temprana edad en la vida de los niños, al mismo tiempo que se familiarizan con otro idioma y cultura a través de la lectura de pequeñas historias y canciones de niños, tanto en inglés como en español. Pienso que es importante enseñar a los niños lo divertido y lo bueno que es ser parte de la diversidad que existe en el mundo, por eso considero que ellos deberían involucrarse con otras etnias y culturas desde temprana edad. Esto les inculca principios más sólidos y, como resultado, tendrán una interacción amigable y más positiva con la sociedad. Si está interesado/a en ser voluntario/a en este programa, por favor comuníquese con Toni Fein o Jennifer Wittenbrink Ortega.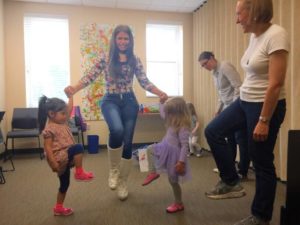 Además coopero con el Programa de Reconciliación de Víctimas y Victimarios (VORP, por sus siglas en inglés) del Centro de Justicia Comunitaria de Elkhart, donde soy voluntaria como intérprete y traductora para la comunidad Latinx. Así mismo, ofrezco mis servicios voluntarios como mediadora, para lo cual completé un curso de capacitación. En VORP, utilizamos una visión de justicia, basada en la comunidad, para ayudar a que las víctimas y los victimarios lleguen a un acuerdo que beneficie a ambas partes: los victimarios tienen la oportunidad de demostrar su arrepentimiento mientras evitan un castigo adicional y las víctimas reciben una justa indemnización. A través de la comunicación, tanto las víctimas como los victimarios, deben ver las cosas "poniéndose los unos en el lugar de los otros". Es importante dejar claro que no se debe abusar de la generosidad de los demás y que no puede haber una paz duradera sin justicia. Si está interesado/a en ser voluntario/a en este programa, por favor comuníquese con Anne Lehman.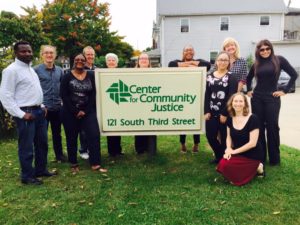 Además, soy voluntaria de español en la Escuela Católica "Holy Cross", en el "Programa de Doble Inmersión" en colaboración con el Instituto de Estudios Latinos y la Alianza para la Educación Católica de la Universidad de Notre Dame. Programas como éste enseñan y preparan a los niños, desde el prekínder, a ser bilingües (en inglés y español). Además, en el programa se inculcan muy buenos valores y principios, en ambos idiomas. Creo firmemente que constituir una buena base de valores e inculcar una educación bilingüe en los niños en temprana edad será una combinación muy útil para sus vidas. De esta manera, estarán preparados para crear un mundo mejor para ellos, para quienes los rodean y para la sociedad en general. Si está interesado/a en ser voluntario/a en este programa, por favor comuníquese con Katy Lichon.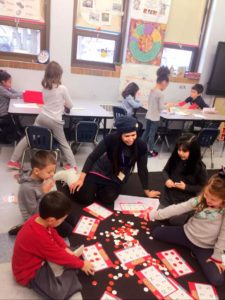 Y, por último, también fui co-mentora, intérprete y traductora en el Programa "Reading For Life (RFL)" en el Centro de Justicia Juvenil de South Bend (JJC, por sus siglas en inglés), una alternativa a la cárcel para delincuentes juveniles. El programa consideraba las ofensas por parte de los jóvenes como el resultado de "daños en su desarrollo moral". Los delincuentes suelen ser víctimas de su propio entorno; por lo tanto, los jóvenes deberían estar expuestos a mejores circunstancias, así como a programas como este, en el cual a través de la lectura se le inculcaban las siete virtudes: justicia, prudencia, templanza, fortaleza, fidelidad, esperanza y caridad. Era importante mostrar a estos jóvenes adolescentes un camino de esperanza en un mundo donde las cosas funcionaran de una manera diferente al mundo al que ellos habían estado expuestos. Para mí, fue muy alentador saber que el programa tenía un porcentaje de éxito del 97% en mantener a los jóvenes fuera de problemas. Pienso que a los jóvenes se les debe dar una segunda oportunidad ya que todos cometemos errores, especialmente cuando aún somos inmaduros o inexpertos.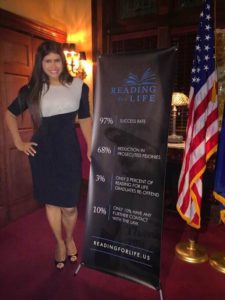 A pesar del éxito de este programa, lamentablemente se terminó en junio del 2018. Espero que algún día se reabra este programa y así vuelva a ser esa luz de esperanza para aquellos jóvenes que necesiten ayuda. Esta experiencia fue realmente una de las que más me impactó, debido a su efectividad y a todos los cambios positivos que pude notar en los adolescentes que lograron completar el programa. Incluso me gustaría promover el desarrollo de programas como este en países como el mío. Programas como estos funcionan porque se basan en principios sólidos y en una investigación efectiva. Pienso que las personas debemos tener la esperanza de que las cosas siempre pueden mejorar, ya que el sentimiento de esperanza es lo que realmente nos impulsa a esforzarnos más.
En conclusión, como dijo la Madre Teresa, si todos unificáramos nuestras habilidades y esfuerzos podríamos "hacer grandes cosas" para nuestras comunidades. El concepto general del voluntariado es dar nuestro tiempo sin recibir nada a cambio. Sin embargo, mi experiencia ha sido todo lo contrario: yo soy la que más ha aprendido de los demás. El voluntariado me ha enseñado a valorar aquello que es realmente importante y ha cambiado mi vida para siempre. Esta transformación no se debe únicamente a las organizaciones en las cuales he participado; sino a las personas con quienes he compartido. No puedo describir la gratitud que mi corazón siente por cada una de las personas e instituciones que han formado parte de esta experiencia. Gracias a todos por iluminar mi vida aún más. El voluntariado es algo que levanta y enriquece nuestro espíritu y embellece nuestra alma. Nunca antes me había sentido tan afortunada, en un nivel espiritual, como me siento ahora. ¡Es algo que simplemente no tiene precio! Los invito a formar parte de esta hermosa experiencia. ¡Les cambiará la vida también!