In this guest post, Rachel Heisler, Assistant Curator for Education, Academic Programs at the Snite Museum of Art, provides offers some key ways to learn to really appreciate the rich art collection available on campus!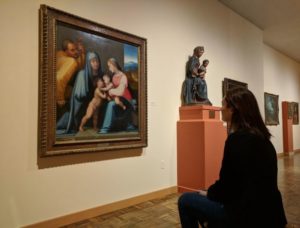 Did you know that the average museum visitor spends between 15-30 seconds in front of a work of art? It takes me approximately 15 seconds to tie both of my shoes, to scroll through 7 Instagram posts, or enjoy a warm chocolate chip cookie from Hagerty Cafe (ok, that may be a lie, it's more like 5 seconds!). 15 seconds is short, especially when you are standing in front of a work of art. To challenge people to take a longer look we created Art180 at the Snite Museum of Art – a commitment to look at one work of art for three hours over the semester.  During the 2018-2019 academic year over 220 people signed up to commit to 3 hours of looking and we hope you will consider joining us for the 2019-2020 academic year. To get you started I am sharing with you some helpful tips and tricks.
Set an alarm – Referencing the inventor of Ronco rotisserie cooker, "set it and forget it!". Set an alarm and dive in to your work. In a busy stressful world, it's helpful to take control of small things. By removing the distraction of constantly looking at your clock, you are now able to focus your attention entirely on the work.
Make it a date – Make your time with your work feel important and special by adding it to your calendar every week or maybe every month.  Treat it like a date by showing up on time and giving it your full attention, but please don't bring it chocolate and flowers.
Don't look at the label and don't Google! – Do yourself a favor and bask in the unknown. You're not going to be graded on knowing the artist, name of the work, or even the meaning of the work. What you take away from this experience is yours and only yours. Challenge yourself to not read about the work and enjoy the visceral experience.
Start by taking a visual inventory – Don't know where to start? Start by writing down everything you see. Take an inventory of the work and keep adding to it throughout the semester as you will never stop seeing new things.
Make yourself comfortable – We want to let you in on a little secret….museums are not as scary as many think they are. Yes, there are rules and yes, museums have a certain stereotype, but really it is all in what you make it. Once you enter the front doors, drop your stuff in the coatroom and grab a stool or meditation cushion to make yourself comfortable. Stand, sit, or meditate in front of your work, but make sure you're comfortable.
 Now that we've given you some tips, what do you have to lose? Sign up here to become a part of the Art180 family. You may not receive a medal or a letter of achievement but we do hope you escape from your busy days and get to know a work of art at the Snite Museum of Art this semester.