Posted on May 25, 2017 in Digital by Aedin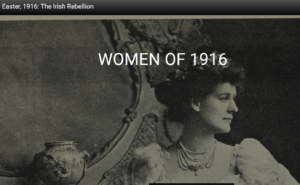 A digital project can be as simple as a collection of texts scanned and assembled on a website or as sophisticated as a collection where digital technology is used  to examine and manipulate text, images, maps, video and data.
Having received a number of inquiries on this subject, I compiled this list, a selection of digital humanities projects and digital exhibits. I haven't attempted to describe or categorize them — that will be a future list!
There are many large databases on the web: ongoing bibliographical and indexing projects such as 'Irish History Online', and large text repositories such as CELT. These will be listed in a separate blog post, and they are routinely listed in library research guides. This list focuses on smaller digital projects and on digital exhibits.
The illustration above, Women of 1916, is part of an unfinished digital exhibit based on the 2016 Hesburgh Special Collections exhibit, Easter 1916: The Irish Rebellion. This points to the fact that not only are there many substantive exhibitions in libraries, archives and museums throughout the world, but the digital exhibits, which range from a series of photographs and information cards to a searchable database with text, photographs and even more sophisticated digital features, are not very easy to discover.
Digital Humanities Projects:
Classic Irish Plays –  A curated collection of digital scripts of plays by Irish playwrights.
Collection of Irish Airs, Marches and Dance Tunes…by F. Roche, Vol. I, 101-199 (Interactive Scores) – ITMA, the Irish Traditional Music Archive.
Contemporary Irish Writing – This platform currently hosts two projects: Joyce Today and 50 Irish Books.
The Dion Boucicault Collection (University of Southern Florida)
The Dublin Music Trade. Database of the music business in Dublin up to 1850.
The Dunn Family Collection: Francis O'Neill Cylinders.
Earlier Latin Manuscripts: Tools for studying the scripts of the oldest Latin manuscripts – A database of manuscripts written in Latin before the year 800.
The Foundations of Irish Culture: Irish Manuscripts on the Continent AD 600-AD 850 – A catalogue of Irish Manuscripts on the Continent AD 600 – AD 850
Irish Famine Archive – A curated collection of digitized documents containing eyewitness accounts of the Irish famine migration to Canada in 1847-1848.
Letters of 1916 – A crowd-sourced digital collection of letters written around the time of the Easter Rising.
Murals of Northern Ireland – A selection of digital images from the collection of Tony Crowley at Claremont College.
National Collection of Children's Books – Database and catalogue of children's books in Irish libraries.
Playography Ireland – Irish Playography and Playography na Gaeilge (Irish Theatre Institute).
Saint Patrick's Confessio Hypertext Stack  (Royal Irish Academy).
Séamus Connolly Collection of Irish Music (Boston College).
Translation in 19th-Century Ireland – A database of translators and works of translation from nineteenth-century Ireland.
Digital Exhibitions.
The 1916 Rising: Personalities and Perspectives
1916: Weaving Public and Private Narratives.
Art and Revolution: The Work of Ernie O'Malley.
Documents Laid through the Decades
A Family At War: the Diary of Mary Martin
Frongoch and 1916: Recreating a Lost Landscape.

A history of the Oireachtas Library.
Mental Health in 19th century Ireland
The National Library of Ireland and the RDS Library: A Shared History

The Theft of the Irish Crown Jewels.
In addition to the Letters of 1916 project listed above, other projects which have used crowd-sourcing include Duchas.ie, the Schools Collection of the National Folklore Collection, and Irish Speakers & the Empire City.
For further reading on digital humanities in Irish studies, see the Breac(2015) issue on digital humanities.