by Alan Krieger, Theology and Philosophy Librarian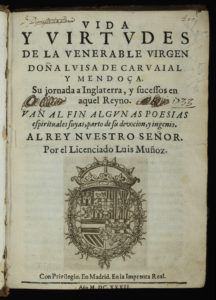 Hesburgh Libraries has just acquired a rare and interesting biographical first edition, Luis Munoz's Vida y virtudes de la venerable virgen dona Luisa de Carvaial y Mendoca (Madrid, 1632). Mendoza (1566-1614), a Spaniard, is an unusual figure in the history of the English Recusant period: a Jesuit-educated female who travelled to England in 1605 to preach and teach with the aim of bringing Anglicans back to the Catholic Church. She also became known for her charitable works in London, taking care of the poor and helping those engaged in prostitution. Mendoza was also an accomplished religious poet, in the mystical tradition of great Spanish literary figures such as St. John of the Cross; the last section of the book includes her spiritual poetry.
We have located only two other North American library holdings of this edition.