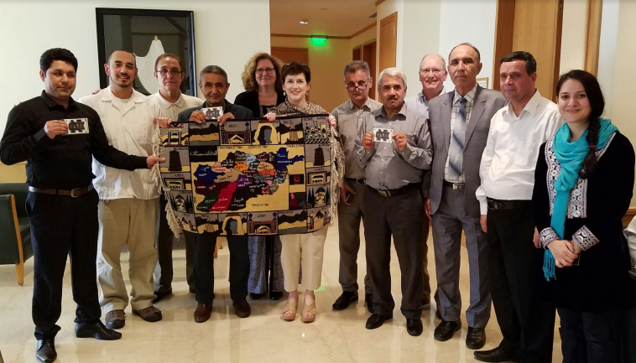 U.S. State Department, U.S. Agency for International Development (USAID) (Awarded 2016) "University of Notre Dame Partnership with Afghanistan's Balkh University to Design, Train Deliver, & Assess a new Master's Degree in Finance & Accounting" [$1.15 million]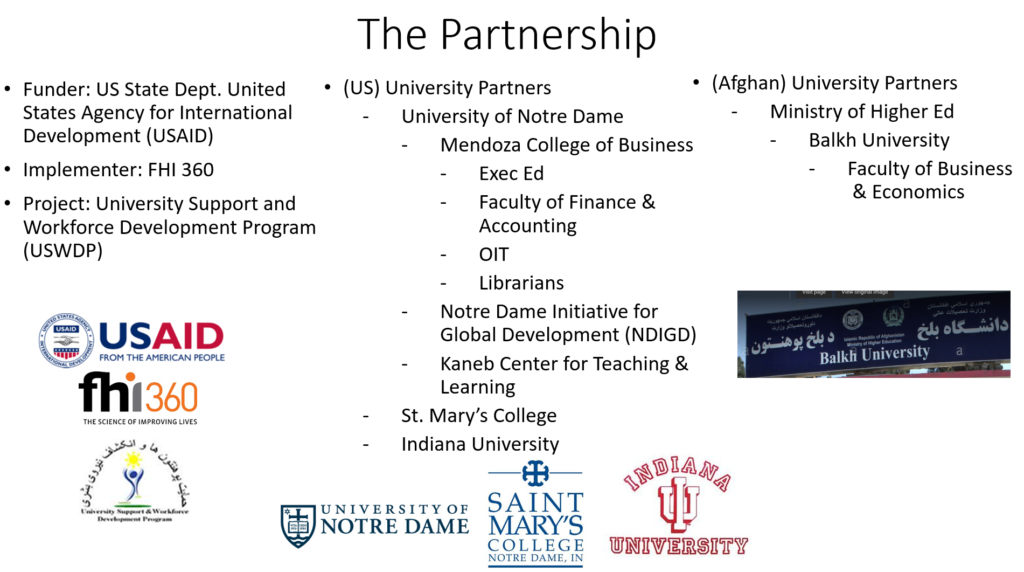 More Information:
For the Notre Dame News press release see:  "Notre Dame partners with Balkh University in Afghanistan to develop master's program under $1.15 million USAID contract" (2016)
For the Mendoza Business Magazine (Spring 2018)  faculty spotlight article see: "Equal Parts Hope and Learning" by Joe Holt associate professional specialist in Management & Organization.
For the USAID press release (2018) see: Success Story: Afghan Professors Explore a New Finance and Accounting Model in China
For a write up in the Notre Dame Initiative for Global Development (NDIGD) Annual Review (2017) see: Building the Capacity for Balkh University Faculty
Quote:
As a result of my involvement in this project in Afghanistan over the last 2 years, I have had the opportunity to come full-circle more than 10 years later from combat operations in Baghdad as an Infantry Platoon Leader. Soldiers are committed to serving a higher mission. What has been gratifying to me as a veteran working at Notre Dame is to be able to continue that duty to the mission of liberating the people of Afghanistan.This international development project has given me the opportunity "to heal, unify, and enlighten" (from ND's mission) through education. Empowering a University in Afghanistan to not only help develop the nation's first master's degree but do so in the area of Accounting to fight corruption with modern teaching methods allows "learning to become service to justice." It has been amazing to see our University mobilize across the corners of campus in support of this mission —faculty from Mendoza Business College, administrators from Executive Ed, program officers from the Initiative for Global Development, faculty developers from the Kaneb Center for Teaching and Learning, language experts from the Center for the Study of Languages and Cultures, IT infrastructure experts, legal counsel, and librarians. I am proud that 17 years after the war started in Afghanistan, the University Notre Dame is still committed to working in solidarity with the people of Afghanistan for the greater common good. I have seen first hand that the military may seek to destroy terrorists but education is the best chance at destroying terrorism. –Alex Ambrose, Professor of the Practice, Kaneb Center for Teaching Learning & Retired Captain US Army Infantry.