Project Overview
With generous funding from the Bill and Melinda Gates Foundation and the Foundation for the National Institutes of Health, VectorBase and the CSIRO Data61 Ecological and Environmental Risk Assessment (DEERA) team are collating a public FAIR (Findable, Accessible, Interoperable and Reusable) spatio-temporal database for the abundance of dominant malaria vectors across Africa. In the near term, this data will used to facilitate an Anopheles gambiae gene drive risk assessment.
Numerical process-based and statistical models provide an important means by which to guide management decisions and to compare alternative vector control strategies to combat the Anopheles gambiae complex, which includes four dominant vector species of human malaria in Africa. To parameterise and test the predictions of such population dynamic models, however, time series data that provides information on the abundance of species-resolved members of An. gambiae s. l. mosquitoes is required at different sites across sub-Saharan Africa that meet the following criteria:
Observations of abundance (such as catch per unit effort data)
Per sample unit (e.g., trap, individual, house or pool)
Taxonomic level of species taken for gambiae complex members from the African continent.
Monthly (weekly or daily measurements are also sought)
Continuous duration of at least 12 months
Current data availability
We currently have 18 datasets available on our website, and are actively curating several more.
Visit the VectorBase MapVEu interface to see / download the data we have collected so far.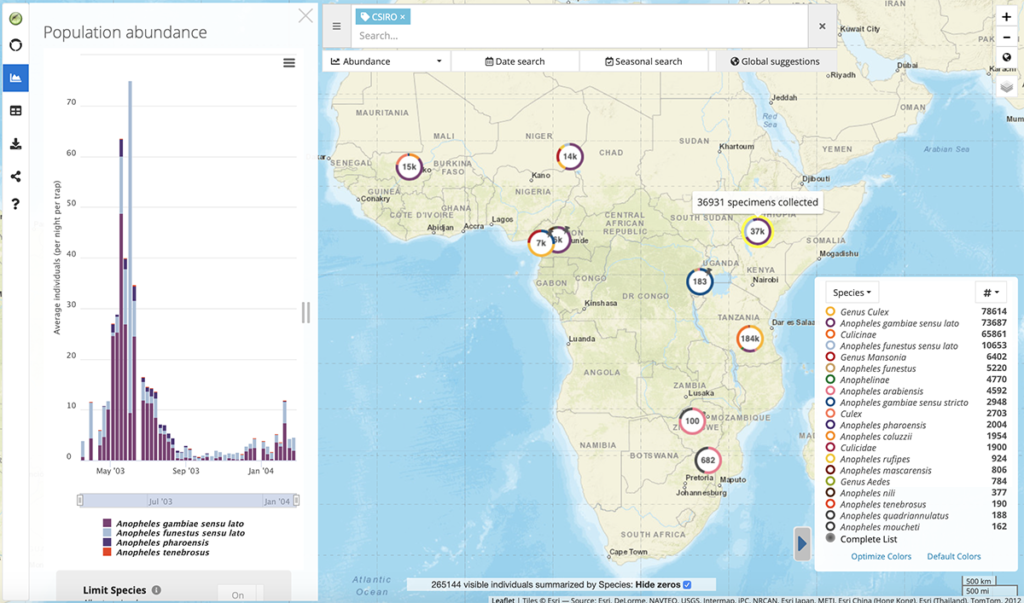 We are grateful to the contributors that include:
J.D. Charlwood
Michael Coleman
Maxwell Kilama
Christophe Antonio-Nkondjio
Lizette L Koekemoer
Vincent Robert
Prof. Bombilis
Tanya L Russell
Stephen Torr
Chris J. Thomas
Mojca Kristan
Tovi Lehmann
Eliningaya J. Kweka
Timoléon Tchuinkam
Susan S Imbahale
Sharon R Hill
Inaki Tirados
Givemore Munhenga
Questions? Want to submit data?
Contact Samuel Rund at srund@nd.edu