Past event
Saturday, February 23rd of 2019, the Science Policy Initiative will be hosting a Sharing Science Workshop in partnership with the American Geophysical Union. We are extremely thankful to the National Science Policy Network for their grant support, as announced here, as well as the Reilly Center for Science, Technology, and Values who have aided us in sponsoring this event.
About the Workshop
This day long interactive workshop will cover best practices in science communication such as:
The value of communication and outreach
Identifying your audience
Reducing/eliminating jargon
Crafting an elevator pitch
The value, and mechanics, of storytelling
Drafting your message
Practice through role playing
Logistics
Location: 210 Duncan Student Center, University of Notre Dame
Time: Sat. Feb. 23rd, 2019 9:00AM to 5:00PM
The workshop is offered FREE for all interested students, postdocs, and faculty at Notre Dame AND students, researchers, and scientists affiliated with regional universities or non-university research institutes. Space will be limited to 40 attendees and light refreshments plus a lunch will be provided. Students at Notre Dame will be eligible to receive 1 pass/fail credit for the workshop through the College of Science and meets the science communication module requirements under the GLOBES program.
To register for the workshop, please click here. If you are attending from out of town and would like to request a home stay the night prior to the workshop, please complete this additional form. We will provide updates to registered attendees about the program as the date approaches. Unfortunately, we are not at this time able to cover travel expenses for attendees. However, members of the Science Policy Initiative have offered home stays the night prior for attendees travelling into the workshop if this would help ensure your participation.
Testimonials for the workshop may be found here.
Workshop Organizers
Through the Sharing Science program of the American Geophysical Union, we will be hosting two Washington D.C. natives to lead the day's agenda and share their expertise through engaging activities: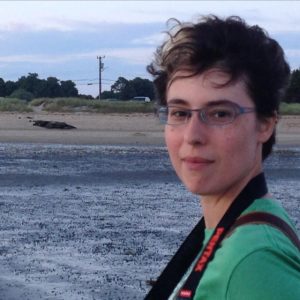 Olivia V. Ambrogio is the manager of the Sharing Science program at AGU, where she does her best to help other scientists connect with wider audiences. She is a biologist by training who got her Ph.D. studying the sex lives of marine snails. In spite of the surprising allure of this research, she eventually shifted into the field of science communication. In her spare time she writes and takes nature photos, often frustrating her partner and friends (who just wanted to take a walk) by crouching on the ground to photograph an insect. She is currently a producer on the science podcast Third Pod from the Sun.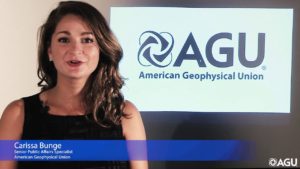 Carissa Bunge is a Senior Public Affairs Specialist at the American Geophysical Union, where she works to engage scientists in the policy making process as well as advocate for science issues on the Hill and with the Administration. Carissa has worked in a variety of positions focusing on science communication, outreach, and policy such as interning for Tom Skilling at WGN-TV, the National Weather Service forecasting office in Romeoville, IL, and the White House Council on Environmental Quality. Originally from Naperville, Illinois, Carissa has a degree in Meteorology from the University of Wisconsin-Madison.
Following the Workshop
The primary goals of the workshop are for you to walk away with concrete plans to be an effective science communicator, promote science communication together with peers from the workshop and colleagues, and build confidence in connecting with your local community or government representatives. We especially encourage participants to contribute their own science communication story and impact policy with skills gained from the workshop. We are happy to support you in your public engagement via science communication.
To support this, we have multiple opportunities available. First, we encourage you to sign up for the Indiana Science Communication Day at the Indianapolis Statehouse Monday March 11. We have organized for attendees to present their scientific expertise to benefit and impact policy makers in Indianapolis. As a secondary local opportunity, we encourage you to sign-up as a speaker for the South Bend Science Cafe. Reach out to us at scipolnd@nd.edu to learn more and how to reserve a presentation slot. Lastly, we have developed local contacts with city and state level government representatives. Thus, if you would like to communicate your work with specific government representatives, reach out to us as we'd be happy to support you in scheduling these meetings.