I co-host the Sausage of Science with my friend and colleague, Chris Lynn, in the summer of 2017. We interview seminar speakers that come to each of our universities, as well as researchers who have recently published in the American Journal of Human Biology. We focus our efforts on interviewing graduate students and early career scientists, both to give them experience with the podcast format and to highlight their work within our field. In this anti-science climate, with ever contracting funding opportunities, it is especially important for our field to speak for itself and speak on a level that all people can relate to.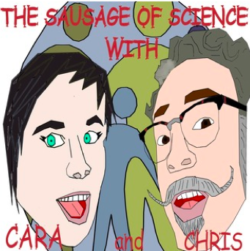 We have also started a mini-series within this podcast, #Hackademics, that addressed less talked about issues in our field (and in all of academia) such as the transition when returning from fieldwork, imposter syndrome, harassment, alternative teaching styles, mental health, and demystifying the publication process to name a few.
The Sausage of Science is produced by the amazing Caroline Owens and Theresa Gildner is supported in part by the Human Biology Association and the American Journal of Human Biology.
We are always open to suggestions, so please share with us!