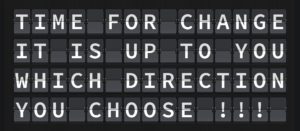 This guest blog post was provided by Larry Westfall, newly retired Director of Graduate Career Services.
***************************************************************
"And suddenly you know...it's time to start something new and trust the magic of beginnings."
~Anon
In time-held tradition, we awake on New Year's day and resolve to make a change in some aspect of our lives as the new year unfolds before us. We are hit with a barrage of ads from media sources encouraging us to lose those extra pounds, pay off our home loan faster, feel ten years younger, or join the fitness challenge. And with the best of intentions, many of us sign up for our 'free consultation' or click the download button in hopes that in some way this first step will evolve to some lasting change of our former self. But are we focusing too much on the past and what we want to change versus shifting our sights to the future and what we want to become?
Dan Millman
, world champion gymnast and athlete, writes in his book, 
Way of the Peaceful Warrior, 
about the physical and mental challenges he faced in his early life and the spiritual growth he experienced through his fictional mentor and counselor, "Socrates", an all-night gas station attendant not the renowned Greek philosopher. At one enlightening moment in the conversation, Socrates offers to Millman,
"You have many habits that weaken you. The secret of change is to focus all your energy not on fighting the old, but on building the new."
How often, during our own moments of seeking a change do we focus more on the past and what we want to change about ourselves or our situation rather than focusing and envisioning what we want to create for the future. We get caught in a paradigm of retrospection as opposed to setting our minds free to envision a myriad of possibilities and opportunities that lie ahead of us.
I've encountered over the course of my career numerous situations that found me at the proverbial crossroads. Life's crossroads create opportunity for us to choose between different options, and when we see someone embracing the moment when choices are made, it can be awe-inspiring. Crossroads are about change. Choices must be made — not just when things are not working out as we had planned, but also during positive moments when we must choose to continue the course or pivot into something new. When we experience an ending in a relationship, a change in careers, political turmoil, the loss of a friend, or challenges with our health, the crossroads we find ourselves facing can either inspire us to choose differently, or during these moments of change we can paralyze ourselves with fear.
Making a crossroads a moment of profound and lasting change and learning how to thrive when life's changes descend upon us can be learned. Here is what I've learned about weathering change…
Don't settle for acceptable.  When our habitual response leads to what is normal or customary, we can typically expect less than remarkable results and then suffer disappointment or regret.
Don't resist the effects of change.  Controlling or forcing things to happen is typically a response to the fear that comes with change. Not making a decision or taking action when faced with change due to fear or uncertainty is itself a choice. Reevaluate your coping mechanisms with stress and apprehension. Move with the change instead of against it.
Trust your inner voice.  Deep within ourselves lies our inner voice that guides us between right and wrong and tells us what we need to do, how we need to react, and how we need to think during times of change. Learn to trust this ingrained wisdom to guide you toward a new destiny.
Dream big(ger).  Change what you expect from life and then create a plan and work to orchestrate the right conditions for your growth and success.
Create balance amidst the chaos.  Let go of agendas, push away daily demands, limit distractions and give yourself the gift of time to reflect and contemplate the areas of your life that may need more balance.
Fail forward.  Failure is inevitable in the face of change and in life. And that's okay. Make the best possible decision you can and move forward knowing that if it turns out to not be the right decision, you can always start again. Remember, failing creates not only additional opportunities for success, but fosters courage and determination for those of us brave enough to attempt it.
When I'm standing at the crossroads or faced with the inevitable fear of change, I've learned to look it squarely in the face and say, "you can do this!" Things may not always turn out the way that I envisioned, but I'm stronger for having risked, taken a stand, trusted and believed in myself. Come join the fun and let life's adventures unfold.