Google "wanderlust" and you'll be greeted by a barrage of images of stunning landscapes, wrinkled maps, and relatively-unoriginal tattoos. The word, now tagged over fifty million times on Instagram, denotes "an eager desire or fondness for wandering or travelling" and has clearly captured the popular imagination, earning articles on BuzzFeed and finding itself titling disappointing movies.  Though the word itself only entered the English language around the beginning of the twentieth century, the concept — according to cognitive theorists — is likely as old as humanity itself. Nancy Easterlin, in her chapter, "Cognitive Ecocriticism: Human Wayfinding, Sociality, and Literary Interpretation," argues that humans have innate needs to "travel in time and through space without getting lost" as a means for gathering resources, seeking refuge, and obtaining knowledge.1 Wayfinding, this human drive to explore and attach meaning to the world around us, establishes an important cognitive basis for our contemporary obsession with wanderlust. But what happens when our ability to navigate our environments is limited? And is this sudden cultural obsession with travel, with all of its racist and classist baggage, really a new phenomenon?
Religious pilgrimage — a journey "made to a sacred place as an act of religious devotion" — may at first glance have little in common with the contemporary wanderlust fever, but in the late medieval period, faithful pilgrims often went to great lengths to traverse the known world in order to visit many of the same landmarks populating Instagram pages today. Pilgrimages were typically undertaken by groups of travelers, and these journeys could be as short as Chaucer's famous trip from London to Canterbury or as long as medieval mystic Margery Kempe's voyage from Lynn to Jerusalem. Records of these pilgrimages prefigure many of the critiques of present-day travel — namely, that "the experience of travel [was] exotic" and "the purview of the privileged."2 Despite this, I wish to read pilgrimage — one of the most common types of medieval travel — as motivated not just by religious devotion, but by a human cognitive need to wander.
This reading is facilitated by accounts of medieval religious devotees who found themselves confined, enclosed, or otherwise unable to undertake the physical pilgrimages, yet nevertheless invented means to satisfy this cognitive urge. In his work with the itinerary maps of thirteenth-century Benedictine monk Matthew Paris, Daniel K. Connolly demonstrates that "cloistered monks, though discouraged from going on pilgrimages to the earthly city [of Jerusalem], could nonetheless use Matthew's maps for an imaginative journey to the Heavenly Jerusalem."3 These imagined journeys, I believe, were abetted by the map's engagement with the same cognitive processes that human beings experience when wayfinding, or moving through physical space. This map (pictured below), depicts the Holy Land from a bird's-eye perspective — cognitive scientists call this a "survey" perspective, in contrast to the horizontal "route" perspective experienced when actually traveling through a location.4 At first glance, this seems odd — how does this survey perspective aid imagined travel experiences, when human beings generally experience travel through a horizontal route-based perspective? The answer, in all too-human fashion, has to do with time.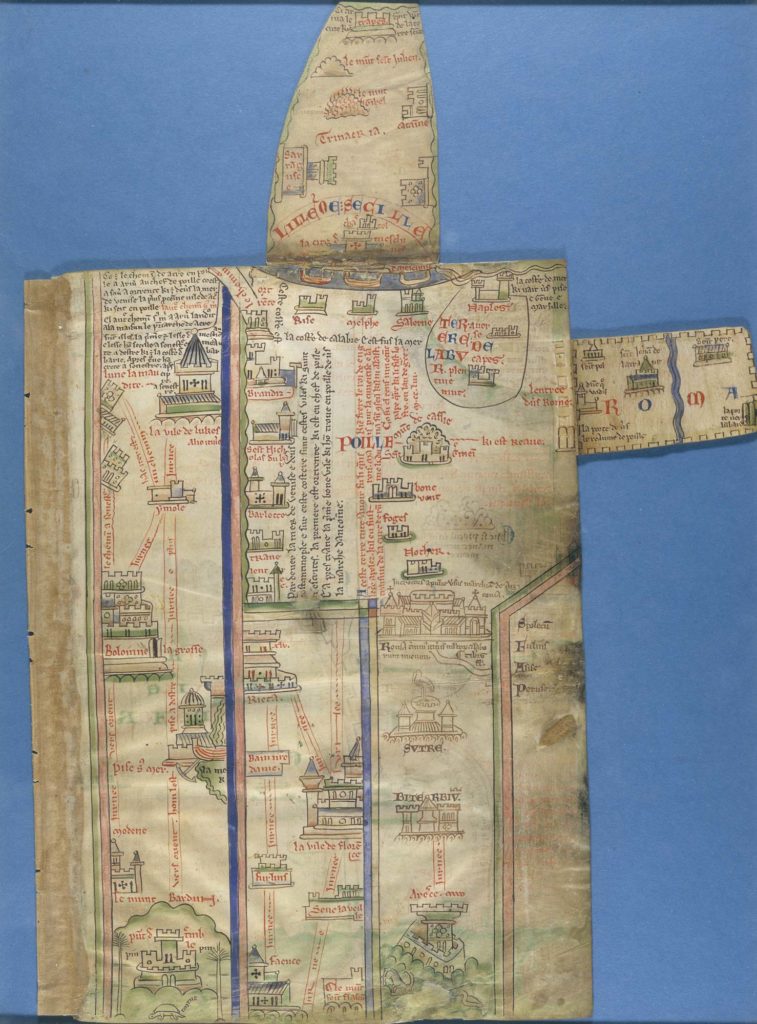 Spatial cognitive researchers theorize that human beings initially conceive of new environments horizontally, using route-based perception; in recall, first-time travelers imagine themselves at the center of their memories, with the environment situated around them. Over time, however, we restructure this mental image, creating survey knowledge of a location — in other words, the more time we spend in a location, the more we're able to imagine from a bird's-eye view. The map of Matthew Paris, as a tool for imaginative travel, reflects this cognitive restructuring. If the point of a pilgrimage is to allow a traveler to truly immerse themselves in the historical life of Christ in the world that he knew, then an imaginative traveler needed to experience the world as Christ did: through a complex, survey perspective.
Logan Quigley
Ph.D. Student
University of Notre Dame
---
1. Nancy Easterlin, "Cognitive Ecocriticism: Human Wayfinding, Sociality, and Literary Interpretation," Introduction to Cognitive Cultural Studies, ed. Lisa Zunshine (Baltimore: Johns Hopkins University Press, 2010).
2. Kathryn M. Rudy, Virtual Pilgrimages in the Convent: Imagining Jerusalem in the Late Middle Ages (Turnhout: Brepols Publishers, 2011).
3. Daniel K. Connolly, "Imagined Pilgrimage in the Itinerary Maps of Matthew Paris," Art Bulletin (81:4), 598.
Ehrenschwendtner, Marie-Luise. "Virtual Pilgrimages? Enclosure and the Practice of Piety at St. Katherine's Convent, Augsburg."…
4. Montello, et. al. "Real Environments, Virtual Environments, maps." Human Spatial Memory, 261.