[This post was written in the spring 2018 semester for Karrie Fuller's course on Chaucer's Canterbury Tales. It responds to the prompt posted here.]
The Canterbury Tales were written in the late 1300s, using language so antiquated to modern ears that it sometimes hardly resembles modern idiomatic English. But does this mean some potentially problematic ideals reflected in the tales are antiquated as well? Certainly not. Anti-Semitism, misogyny, and class issues are just some of the relevant and often troubling topics which pervade the tales. Particularly disquieting is the Islamophobic language used in "The Man of Law's Tale" because of how eerily reflective it is of language used in instances of hate crimes today in the Western world. Not only that, but a driving force behind an increase in such abuses is often attributed to misrepresentation of the Islamic faith in the media, particularly in newspaper headlines. Some may scoff at the archaic lexicon of Middle English, but hundreds of years after the death of Chaucer, we must reckon with the bitter truth that we are continuing to use the written or printed word to perpetuate extremely hateful and prejudiced ideas of Islam.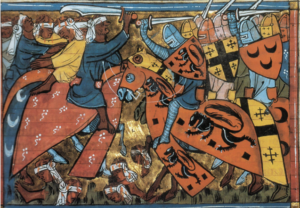 There is no question that Geoffrey Chaucer's representation of the Islamic faith in "The Man of Law's Tale" is extremely negative. In this tale, a Syrian Sultanness massacres her own son and hundreds of his followers in cold blood in order to gain political power. She uses her son's conversion to Christianity to manipulate her court against him and justify the massive slaughter. Chaucer paints her as the ultimate, heartless villain, using language which suggests her Islamic faith is the root of all evil, whereas the Sultan himself may be considered an upstanding character, but only because he has forsaken his beliefs and converted to Christianity. Even though this action is merely to become eligible to marry the Christian woman, Custance, any reason for conversion is seen as preferable to retaining the Islamic faith. Syria itself is referred to as "the barbre [barbaric] nacioun" (Chaucer 126), and the Sultanness as a "welle of vices" and "roote of iniquitee [evil]" (Chaucer 128). The Muslim nation is painted as barbaric and corrupt, a mysterious land of lawlessness where a mother may murder her son without remorse and become the source of evil itself. The devil, as a snake bound to hell, is invoked in comparison to the Sultanness, with the lines, "O serpent under femynynytee [femininity], / Lik to the serpent depe in helle ybounde [like the serpent bound deep in Hell]!"(Chaucer 128). There is no definitive proof that this starkly anti-Muslim rhetoric is representative of Chaucer's personal attitude toward Muslims; he may have been incorporating a popular sentiment of prejudice inherited from the Crusades. Fought from around 1090 through the 1200s, this was the period of Holy Wars between Christians and Muslims over sites of shared religious significance ("Crusades"). But, whether Chaucer upheld those attitudes or not, the widespread popularity and influence of The Canterbury Tales could have facilitated the spread of such hateful views in medieval popular culture.
Modern-day readers may only speculate about just how much the Man of Law's views spread originally, but it is certainly evident that the hatred continues today. The consequences are truly tragic, as the rate of hate crimes soars in places like London, where tension over Islamophobic media representation has been building since the ISIS terrorist attacks in Paris. The Metropolitan Police of London reported a 70% increase in Islamophobic hate crimes committed over the course of the year following the month of July 2014-2015, from 478 reported the previous year to a disheartening 816. The people most at risk of becoming victims to such crimes are women wearing hijab, as they are more easily targeted (Sudan). Verbal abuse like that used against a woman riding public transportation often echo sentiments which appear in The Man of Law's Tale; in this attack, the woman is referred to as "the devil," reminiscent of the way in which Chaucer refers to Satan's jealousy of the Muslim Sultanness (Sudan). Newspaper headlines make damaging blanket statements with gross and off-base generalizations like "UK mosques fundraising for terror" in The Daily Star Sunday, or "Muslim sex grooming" in The Times. The first of these headlines was condemned by IPSO press regulation, and the second was referred to as "appalling" by Chief Constable of Greater Manchester Police Ian Hopkins. Both were criticized for using extremely misleading language to paint the Islamic faith in a negative light (Versi). Statements like these are meant to make the Islamic faith and culture appear violent and barbaric, similar to the illustration of the Sultanness depicted by the remorseless mass murder and descriptions of the "barbre nacioun" of Syria (Chaucer 126).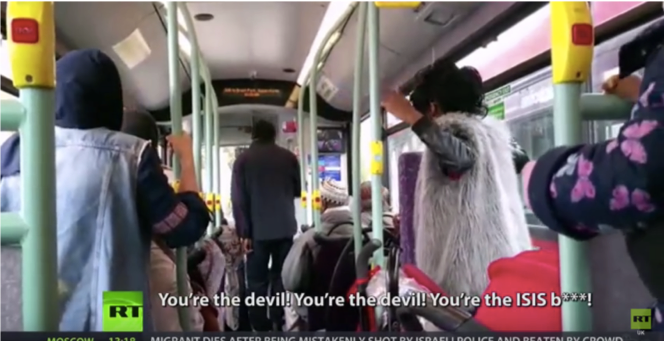 Hate-filled rhetoric of this nature proves that we cannot dismiss the prejudiced sentiment depicted in medieval texts like The Canterbury Tales as antiquated and irrelevant. Instead, the striking similarities it has to how Muslim culture is represented in language today are a testament to the fact that we have not made enough progress in promoting more globally-minded and tolerant thinking. Islamophobic rhetoric has existed for far too long in written, print, and now electronic media, and improvements must be made in the kind of language used to discuss Islamic culture in unbiased and culturally aware terms. We must recognize how deeply rooted intolerant language is, the consequences it has, and the need to finally move forward and correct the manner in which Islamic culture is represented.
Meggie Kollitz
University of Notre Dame
Works Cited
"Crusades." History.com.A&E Networks 2010. Web.
de Tyr, Guillame. Histoire d'Outremer. 1500s. France (Paris), Paris, BnF, département des Manuscrits, FranÇais 22495 fol. 90
Geoffrey Chaucer, The Canterbury Tales, ed. by Robert Boenig and Andrew Taylor, 2nd ed. (Broadview, 2012)
"ISIS bus rant: in the grip of hate." YouTube, uploaded by RT UK, 19 October 2015, https://www.youtube.com/watch?v=O7NUgWhxLmg&feature=youtu.be&has_verified=1
Sudan, Richard. "Increasing attacks on Muslims caused by media-hyped Islamophobia." RT. RT 8 December 2015. Web.
Versi, Miqdaad. "Why the British media is responsible for the rise in Islamophobia in Britain." Independent. independent.co.uk. 4 April 2016. Web.