Having recently posted a blog on dragonomics in Beowulf and Tolkien's Hobbit, I decided to follow up by offering a complementary poetic translation of the Sigemund-episode in Beowulf.
I have chosen to isolate the Sigemund-episode (874-902) and translate this passage as a discrete poem, in part because the episode operates as a poem within a poem, delivered as one of three songs by the Danish court poet and recited in celebration of Beowulf's victory over Grendel. Numerous scholars have tried to identify its literary function in Beowulf, and the episode has traditionally been regarded as a heroic exemplum, honoring Beowulf and foreshadowing his fight with the dragon. I wish to challenge this reading of the passage.
The Sigemund-episode in Beowulf is the earliest known account of the Vǫlsung legend, and this tale is alluded to in both the anonymous Poetic Edda and the Prose Edda of Snorri Sturluson as well as in Njáls saga, Þiðreks saga and the Vǫlsunga saga. Christine Rauer notes in her study of the Beowulf-dragon and analogous medieval dragon-fights, "The more extensive accounts of the Vǫlsung dragon-fight, such as those found in Fáfnismál (Poetic Edda) and Vǫlsunga saga, date from the thirteenth century, although the subject matter can be presumed to be of an earlier date" (42). However, in these later Old Norse-Icelandic versions of the legend, it is Sigurðr, Sigmundr's son, who is credited with slaying the hoard-guarding dragon, Fáfnir—not his father.
I would note that, in the section in Beowulf describing Sigemund's slaying of the dragon, there appears to be an alliterative formula that features also in the Old English Maxims II. This poem characterizes the behavior, function and stereotypical nature of various things—including references to cyning "a king" (1, 28), wulf "wolf" (18) and þyrs "giant" (42), in addition to geological features such as ea "a river" (30), wudu "woods" (33) and brim "sea" (45), as well as material objects and structures such as daroð "a spear" (21), beorh "barrow" (34) and duru "doors" (36). Maxims II describes sweord "a sword" (25) before shifting focus onto the stereotypical image of a gold-proud and barrow-dwelling dragon. The line reads drihtlic isern. Draca sceal on hlæwe "lordly iron. The dragon shall be in a barrow" (26). This closely parallels a similar line in Beowulf, which reads dryhtlic iren. Draca morðre swealt "lordly iron. The dragon died by murder" (892). Although the ending of the line is altered, the commonalities are nevertheless striking, especially since in both cases the alliteration stretches across two discrete semantic units.
I have also tried in my translation and recitation to emphasize the poetics of this episode, especially the two rhyming b-verse half-lines, which emphasize the dragon's demise. The first, draca morðre swealt "the dragon died by murder" (892), characterizes Sigemund's killing of the monster as a crime, in its description of the slaying as morðor "murder" (892). The second, wyrm hat gemealt "the hot worm melted" (897), reiterates the dragon's death at the hand of the hero, and emphasizes also the element of heat—otherwise absent from the characterization of the dragon in the Sigmeund-episode—though explicitly linked to the Beowulf-dragon, described as fyrdraca "fire-dragon" (2689) and ligdraca "flame dragon" (2334, 3040).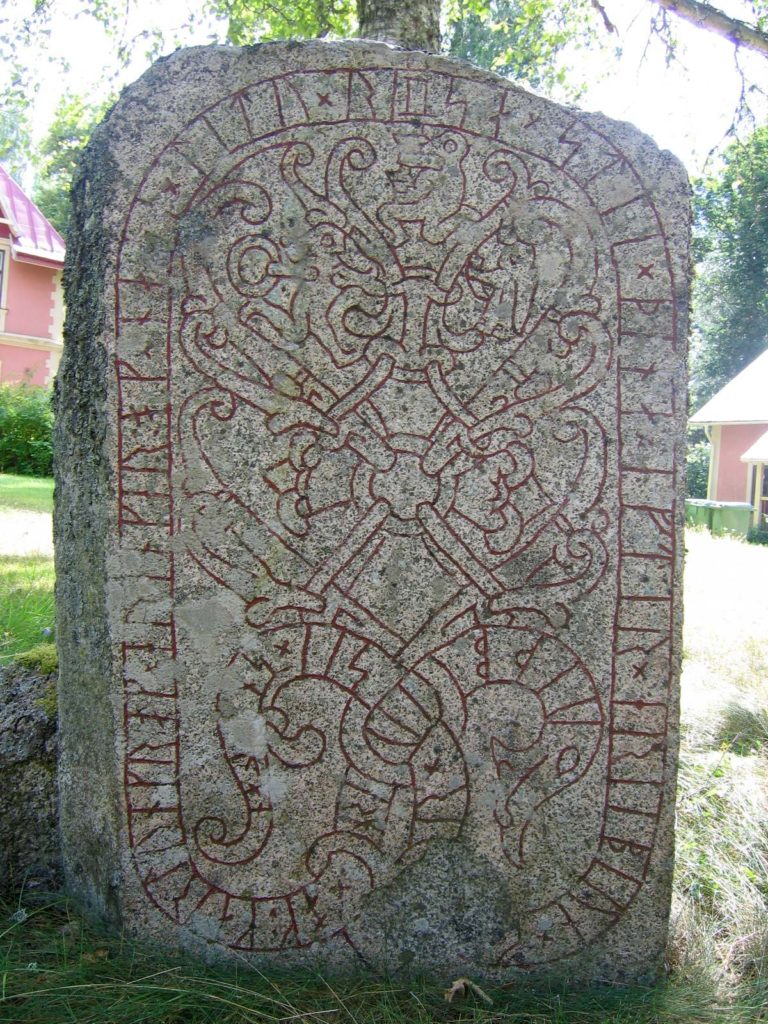 The Sigemund-episode is also enveloped by references to his ellendædum "valorous deeds" (876, 900), a compound that appears at both the beginning and end of the passage. However, Mark Griffith has provided a detailed commentary of the episode, and he concludes that "The episode of Sigemund is more highly enigmatic, and its central figure much more problematic than received opinion has it" (40). Griffith observes the numerous pejorative terms used to describe the hero, perhaps most famously his characterization as aglæca "fearsome marauder" (893), a term used to characterize each monster in the poem, Grendel (159, 425, 433, 591, 646, 732, 739, 816, 989, 1000, 1269), Grendel's mother (1259), and the dragon (2520, 2534, 2592, 2907, 3061), though notably also Beowulf at two key moments (1512, 2592). As Griffith points out, "if the term does have pejorative meaning, then this applies to both Sigemund and Beowulf" (35).
This calls into question the merits of his heroism, and makes the reader wonder about the nature of his ellendædum, uncuþes fela "valorous deeds, much known" (876). The mystery introduced in this line is resolved when the Danish poet reports that þara þe gumena bearn gearwe ne wiston,/ fæhðe ond fyrena, buton Fitela mid hine "feuds and crimes, of which the sons of men did not readily know, except Fitela with him" (878-79). Indeed we learn that his valorous deeds are characterized specifically as fæhðe "feuds" (879), a term associated with the Grendelkin's feud with God (109), and especially Grendel's mother's vengeance (1333, 1340, 1380, 1537) as well as the dragons wrath (2403, 2513, 2525, 2689). We learn also that these deeds are explicitly fyrena "crimes" (879)—a term repeatedly associated with Grendel (101, 164, 639, 750, 811, 1001, 1669)—who likewise performs fæhðe ond fyrene (137, 153).
Moreover, the reference to Fitela, Griffith argues, may call to mind information for the Vǫlsunga saga, which "records how Signy changes shape with a sorceress, visits her brother and sleeps with him, whilst in this disguise, in order to beget a son to further the Vǫlsung feud with her husband" (25). In other words, Sigmundr (Sigemund) is both father and uncle to Sinflǫtli (Fitela), as a result of his incestuous relations with his twin sister. This seems further emphasized by the reference to the secrets shared eam his nefan "uncle to nephew" (881), which focuses the reader's attentions on Sigemund's incest and role as eam, an Old English term which indicates specifically "maternal uncle."
Indeed, troubling descriptions of the hero persist, as Sigemund becomes characterized as wreccena wide mærost "the most famous of exiles"(898), which calls to mind the exiled Grendel, described as mære mearcstapa "famous border-crosser" (103), depicting the hero once again in pejorative terms. I would argue that this bears especially on the final reference to Sigemund's ellendædum "valorous deeds" (900), and specifically the parenthetical half-line at the end of the episode, which indicates that he þæs ær onðah "he prospered before by these" (900).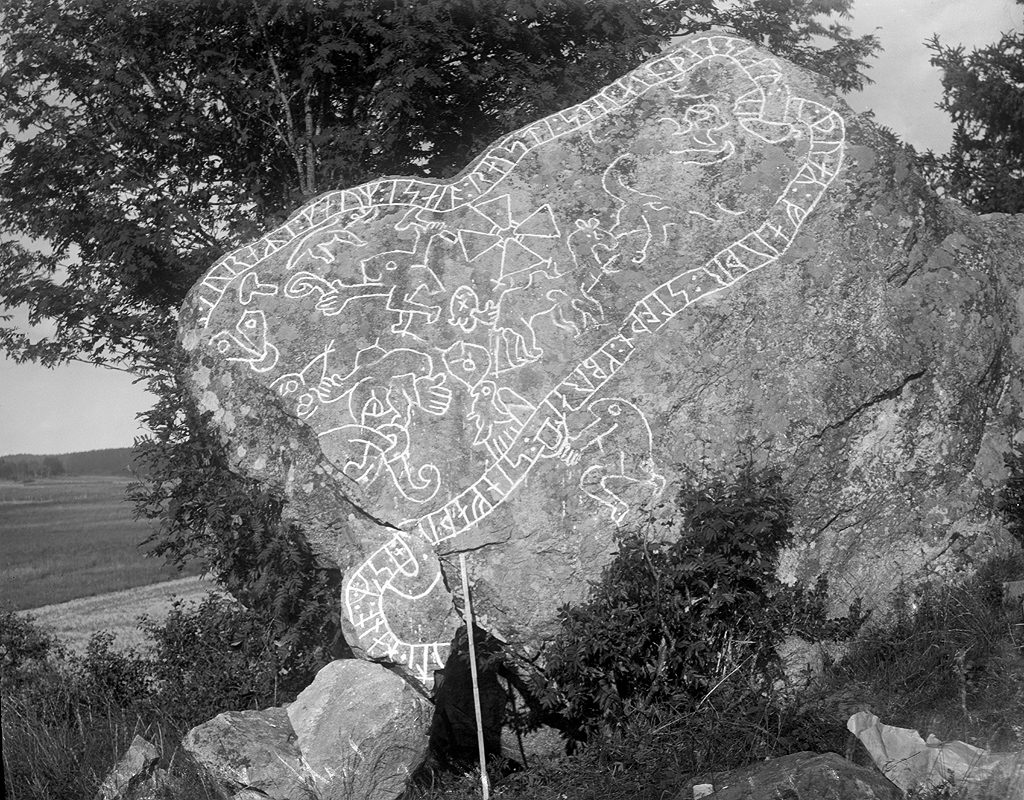 If Sigemund prospers through fæhðe ond fyrena "feuds and crimes" (879), what does this say about the warrior ethics displayed in the poem? Indeed, I would suggest that the parenthetical half-line he þæs ær onðah "he prospered before by these" (900) highlights how in the heroic world of Beowulf, the only way to thrive is by imitating monsters and engaging readily in fæhðe ond fyrena. In Beowulf, feuds and crimes result in the protagonist's death and the subsequent genocide of the Geatish people—which mirrors Sigemund's (and Fitela's) annihilation of ealfela eotena cynnes "an entire race of giants" (883)—perhaps in part because Beowulf seems to adopt Sigemund as a role model and seeks to emulate the ellendæda of this aglæca.
Richard Fahey
PhD Candidate in English
University of Notre Dame
Further Reading:
Abram, Christopher. "Bee-wolf and the Hand of Victory: Identifying the Heroes of Beowulf and Vǫlsunga saga." The Journal of English and Germanic Philology 116.4 (2017): 387-414.
Bonjour, Adrien. The Digressions in Beowulf. Basil Blackwell. 1950.
Kaske, Robert.  "The Sigemund-Heremod and Hama-Hygelac Passages in Beowulf." Publications of the Modern Language Association 74 (1959): 489-94.
Griffith, Mark. "Some difficulties in Beowulf, lines 874-902: Sigemund reconsidered." Anglo-Saxon England 24 (1995): 11-41.
Rauer, Christine. Beowulf and the Dragon. D. S. Brewer. 2000.