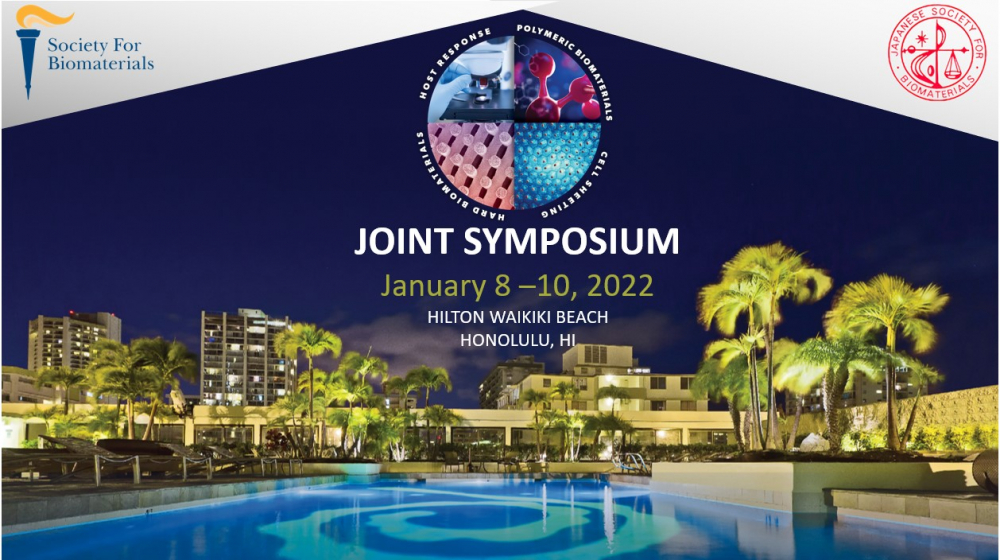 Virtually presented our lab's research on tackling two pressing problems in biomedical research at the Society for Biomaterials/ Japanese Society for Biomaterials joint Symposium in Honolulu, Hawaii.  (January 8-10, 2022).

I am presenting our research on broad-spectrum antibiotic-free antibacterials to combat multi-drug resistant bacterial infections.
Oral Presentation Session:  Session 1: Bioglasses/Ceramics/Other Hard Materials
2:37 – 2:52 p.m (Hawaii time) 
Title: Phage-Mimicking, Broad-Spectrum Antibacterial Nanoparticles Against Multi-Drug Resistant Bacteria J. Hopf, M.Waters, V. Kalwajtys, S. Lee, Prakash Nallathamby | Berthiaume Institute for Precision Health – University of Notre Dame  
We are also presenting a poster on label-free targeting of metastatic cancer cells using magnetoelectric nanoparticles with the aim to improve patient quality of life during and after chemotherapy.
Poster session:  Bioglasses/Ceramics/Other Hard Materials  V17. Neutralizing the Systemic Toxicity of Co-Formulations of Chemotherapeutics Using Magneto-electric Silica Nanocarriers for Specific Therapeutic Action Against Metastatic Cancer Cells.M.Waters, J.Hopf, V. Jo Davisson, P. Helquist, Prakash Nallathamby |  Berthiaume Institute for Precision Health – University of Notre Dame   
https://biomaterials.org/events-future-meetings-2020-hawaii-joint-fall-symposium-sfb-jsb/2020-program