Please join us for the following public events and exhibits being hosted in Rare Books and Special Collections:
Thursday, December 7 at 5:00pm | Italian Research Seminar: "Desire, Anxiety, Shame: Transatlantic (Re)Mediations and 'Italian Culture'" by Loredana Polezzi (Stony Brook University).
---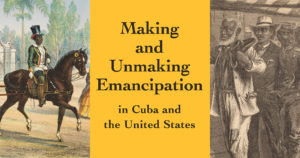 The exhibition Making and Unmaking Emancipation in Cuba and the United States is now open and will run through the fall semester.
Tours of the exhibit may also be arranged for classes and other groups by contacting Rachel Bohlmann at (574) 631-1575 or Rachel.Bohlmann.2@nd.edu.
---
The December spotlight exhibits are Football and Community at Historically Black Colleges and Universities (August – December 2023) and TBD (December 2023 – November 2024).
Rare Books and Special Collections will be closed for Notre Dame's Christmas and New Year's Break
(December 22, 2023, through January 1, 2024).
We otherwise remain open for our regular hours during Reading Days and Exams, and welcome those looking for a quiet place to study.