by James Cachey, Stacks Maintenance and Patron Services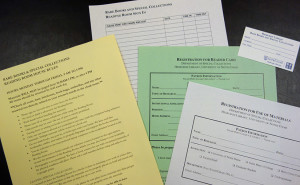 Rare Books and Special Collections is a public research facility that houses over 175,000 volumes of printed books and periodicals, manuscript holdings that range from medieval codices to contemporary collections, and a variety of other formats including printed ephemera, maps, newspapers, and numismatic and philatelic items. All of these materials are available for use upon request. In order to expedite access to using these materials, this post offers some guidelines to our potential patrons.
The majority of our collections are located in our basement storage stacks and need to be retrieved when a patron requests to use them. Because of this, it is helpful for both you and the department if you email your requests at least 24 hours before you plan to visit. However, if you are unable to email in advance, please expect up to a 20 minute wait for us to retrieve your materials. When you email your requests for materials, please include the full location for books found in the Location tab of the catalog record or the manuscript number for manuscripts from our website. This is important because our stacks are separated by type of material (Rare Books, Medium Rare, Manuscripts, and Ephemera) and by size (Jumbo, Oversize, Extra Large, Large, Small and Extra Small).
For example:
Special Collections, Special Coll. Rare Books Small – PT 2473 .G4 R4 1831
Special Collections (MR), Special Coll. – PQ 7797 .B635 A23 1964
Lat. b. 2
MSN/MN 8004
MSSP 2002-1-B
When you arrive at the department and if it's your first time visiting, you will be asked to read our policy and procedures and to fill out some paperwork. Once you have registered, you will be asked to check your bags and jackets in our locker room. During this time, we will enter your information into our database and set up the items you requested in our reading room.
We hope this information will help you become familiar with how to use our collections and expedite the process of retrieving materials for you in order to maximize your time in our department.
---
This work is licensed under a Creative Commons Attribution 4.0 International License.