by Rachel Bohlmann, American History Librarian
When Congress declared the last Monday in May a national holiday in 1968, it standardized the many different ways that Americans had remembered our war dead since the Civil War (1861-1865). Defining "Decoration Day," as Memorial Day was first known after that war, became part of a larger cultural and political conflict about how to remember the Civil War itself.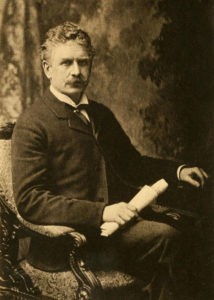 Writer, poet, journalist, and veteran Ambrose Bierce shaped this post-war conversation. As a nineteen year old he joined the Ninth Indiana regiment and served nearly the entire conflict. Bierce later settled in California as a journalist and writer, contributing social criticism and satire to the San Francisco Examiner and other publications.
Of the many former soldiers who put their wartime experiences into literature, Bierce probably had seen the most combat. It never left him. By the 1880s, when American culture was awash in sentimental and nostalgic literature about the Civil War and slavery, Bierce's stories stood apart. He despised war sentiment and, as one historian put it, "never stopped recollecting the corpses." (David Blight, Race and Reunion, 2001, p. 248) Bierce's realism about war's horrors, most notably expressed in "An Occurrence at Owl Creek Bridge" and "Chickamauga," was nearly unrivaled in his generation and distinguished him from other writers until after World War I.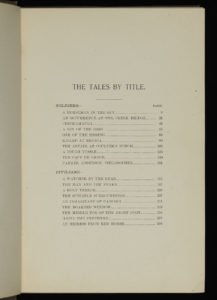 In addition to the finely-produced first edition of collected short stories featured here, Tales of Soldiers and Civilians, Hesburgh Library holds every first edition work by Bierce, thanks to the generosity of two university benefactors, John Bennett Shaw and Walter Trohan.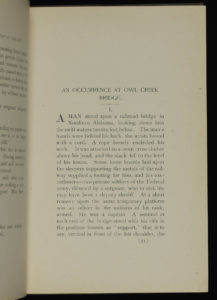 For more about Ambrose Bierce, and where most of this post's content comes, see, David W. Blight, Race and Reunion: The Civil War in American Memory (Cambridge, MA: Belknap Press, 2001). See also S. T. Joshi and David E. Schultz, Ambrose Bierce: An Annotated Bibliography of Primary Sources (Westport, CT: Greenwood Press, 1999).
---
This work is licensed under a Creative Commons Attribution 4.0 International License.