Please note that the corridor outside RBSC is temporarily narrowed to a pedestrian tunnel due to ongoing library renovations, but we generally remain open during our regular hours.
Please join us for the following public events and exhibits being hosted in Rare Books and Special Collections:
Thursday, February 23 at 5:00pm | Italian Research Seminar: M.A. Students Presentations (University of Notre Dame)
"Anybody here speak English? / Non dovete avere paura, non c'è ragione":
Dubbing as Translation and Rewriting in Spike Lee's Miracle at St. Anna,
by Santain Tavella
The Infernal Arno: Mapping the Arno in Dante's Hell
through the Lens of Purg. XIV,
by Toby Hale
Tuesday, February 28 at 3:30pm | Exhibit Lecture: "The Changing Face of Irish Writing" by Brian Ó Conchubhair (Associate Professor of Irish Language and Literature, University of Notre Dame). This lecture has had to be rescheduled—a new date will be announced later.
---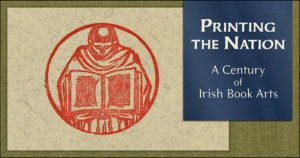 The spring exhibit, Printing the Nation: A Century of Irish Book Arts, features selected books from the Hesburgh Libraries' Special Collections that demonstrate the art and craft of the Irish book since 1900. The exhibit, curated by Aedín Ní Bhróithe Clements, will run through the semester.
The February spotlight exhibits are Language and Materiality in Late Medieval England (February – April 2023) and "That Just Isn't Fair; Settling for Left-Overs": African American Women Activists and Athletes in 1970s Feminist Magazines (February – March 2023).
---
Rare Books and Special Collections will be closed
from 11:30am to 2:00pm on Thursday, February 9, 2023.