The keynote panel for "Remembering the Middle Ages? Reception, Identity, Politics" will take place on Saturday, 6 April, at 4 p.m. We are pleased to welcome Haruko Momma (New York University) and Sarah Salih (King's College London) as our keynote panelists.
Professor Haruko Momma of New York University describes herself as a philologist, as 'someone who uses diverse words and languages as entrance points to explore the cultures of the people who have used them'. Her 2012 From Philology to English Studies: Language and Culture in the Nineteenth Century (Cambridge University Press) traces the history of philology through the dramatic changes in the field taking place, primarily, in the nineteenth century.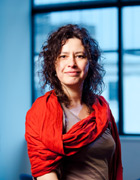 Sarah Salih is Senior Lecturer in the Department of English at King's College London. Sarah's research interests include sexuality, gender and subjectivity; intersections of literature, practice and the visual arts; East Anglian culture; and medievalisms. She is one of the organizers of the Institute of Historical Research's Interdisciplinary Seminar on Medievalism. And she recently co-edited the Studies in Medievalism collection 'Medievalist Visions' (2016), in which she writes that the 'enlivening, recreation, and continuation' of the material remains of the past 'is not only a scholarly exercise, but an activity performed, differently, by all of us who live among them' (69).