By Chris Donnelly
The subject of the weather was a rather prevalent feature in my blog about the previous leg of the tour, in Wisconsin.
Sadly, living up to the British stereotype of being obsessed with the subject, I apologise in advance that I am compelled to begin this blog with the same! Here is the view as we approached Newark International Airport.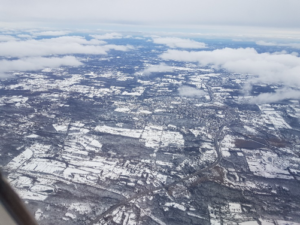 And here is the view from my hotel window the next morning!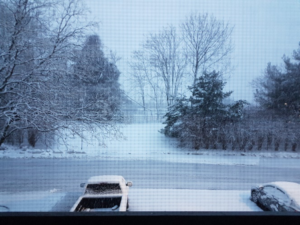 I promise to move on from this subject, after the following final (for the present) passage on the subject.
We are no strangers to adverse weather in the UK, as anyone who has stayed for any period of time there will surely testify. However, our rehearsal period, from mid-January to mid-February, seemed to be engulfed in one long rain cloud. It was wet and grey in the mornings and completely dark by the time our working day was done. So the torrential rain in South Bend, followed by the freezing conditions of Wisconsin and the fresh snow of New Jersey, were a constant test of our durability. But there is great solace in the fact that the final leg of the tour ends in Hawaii and that the two weeks following this present residency will be in LA!!
Having shed that skin, I am now free to ruminate on our week in Red Bank, NJ, in more detail.
The week was a slight departure from a normal residency in that we are not actually attached to any college or university, but rather to the Count Basie Theatre, where we performed two shows to schoolchildren and ran workshops for high school children as part of the theatre's outreach program.
Amidst the various workshops, I had the fascinating experience of running a workshop for a special life skills class for students aged fourteen to fifteen. It was completely outside of my comfort zone, having never worked with such students before. I confess to being trepidatious, mainly because I didn't feel that I had the very specific skill set required to do justice to them. Once again, it was to be a memorable experience.
To begin with, on reaching the high school, it was quite a culture shock to see private security guards at reception. Then, when the students came into the classroom, there was an announcement over the speaker system, following which everyone stood with one arm across their chest as they pledged allegiance to the American flag, which is something I had not witnessed before.
With regard to the pupils themselves, I was interested to see how broad a range of learning disabilities there were, from seemingly fully cognitive to fully autistic. As Mrs. Meyers put it, in our brief chat before the workshop…
"Some of them some days are totally connected; other days it's like it fell out of their shoes."
Having completed the workshop, I was left with two thoughts; firstly, how warm, friendly and desperate to please the vast majority of the students were and secondly, how amazingly patient, calm, caring and unerringly kind Mrs. Meyer and her teaching assistant, Mrs. Baeza, were. Not for the first time on this tour, I had had an extremely humbling experience. My colleague, Lizzie, had one similar later in the week.
And so to the theatre…
The Count Basie theatre holds over a thousand people when full. As the picture shows, it is a grand space: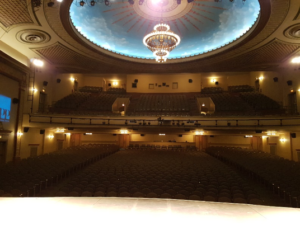 Originally opened in 1926 as Reade's Carlton Theater, it is apparently one of the nation's most celebrated performing arts centres and is listed on the National Register of Historic Places in America.
Art Garfunkel apparently once remarked, "This hall is to a singer what Steinway is to a pianist."
I find it very impressive that the likes of Springsteen, Tony Bennett and the Beach Boys are amongst the thousands of known superstars have graced the stage in its ninety-year history. However, from my personal point of view, I am rather delighted that I can state with firm assurance, because Ringo Starr played there, that I have shared a stage with a Beatle….sort of!
The two shows themselves we performed to approximately three hundred and then seven hundred students respectively, and were well-received, especially the latter. I do believe that our decision to have a pre-show whereby we actors mingle and chat with the audience for twenty minutes or so before we actually begin actively adds to their enjoyment by breaking down the barrier between audience and performer.
I was extremely touched to see, as I mingled, the whole of my workshop class and I was presented with a folder of cards that the class had made for me…and a tray full of cookies. I am delighted to be dubbed Mr. Chris!
The end of the shows heralded the end of our working week and the whole cast, at various times (and on various modes of transport), took the opportunity to enjoy Red Bank's proximity to New York and a fine time was had on Saturday, the 17th – St. Patrick's Day, in the Big Apple.
Myself and Tom enjoyed the one-hour ferry ride…
Although, everyone had places to go, things to see, friends to meet…and beers to drink, obviously…I thought it was a lovely testament to the closeness of the group that the whole cast met up for a while in a friendly bar on West 46th and 8th Avenue…
However, the weekend reverie being done, it is time to move on to Santa Monica…and sunshine!