By Chris Donnelly
Aloha! Unbelievably, we have reached the last week of our tour and what an unbelievable ending it!
On first hearing about the itinerary for this Spring tour, Hawaii, or Havi'i, as the Islanders pronounce it, was a mouth-watering prospect. Images of a tropical paradise in the middle of the Pacific Ocean were conjured in my mind and I am delighted to say that the islands lived up to those images, and indeed surpassed them in every conceivable way.
After our usual Monday-is-travel-day early start, we left Utah, with images of the breathtaking Arches National Park still fresh in our minds' eyes, and flew the three hundred and seventy miles to Denver, Colorado.
Our connecting flight took us from thence on the two thousand and three thousand three-hundred and fifty mile journey to the first of two of the Hawaiian Islands which were to make up this final week's residency – Honolulu. As you can see from the following picture, our well-heeled team were not too displeased about it…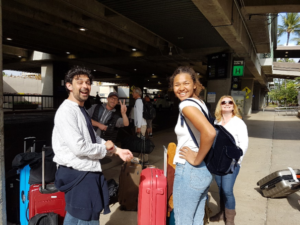 On the journey to the Lincoln Hall apartments on the University of Hawaii campus, I was initially surprised to note how incredibly heavy the traffic was. I was even more surprised when informed that the reason for this is that Honolulu is one of the bigger cities in the USA.
At the faculty meeting, the university coordinator, Tim Slaughter and his right-hand man, Todd Farley, greeted us and gave each of us a lei, a beautiful wreath of flowers. As is Hawaiian tradition, they were presented in a semi-formal, traditional fashion in honour of guests. This created a wonderful and warm atmosphere from the onset.
Tim and his team have done a great deal to build up a strong outreach programme on behalf of the university and therefore the majority of the workshops were for high schools. There was a good turnout, therefore, of teachers from various schools on the Island. There was also a veritable fleet of U of H students, who were to be our drivers for the three days we were there. Todd stipulated that he and the students would not only ferry us to our various workshops and the theatre for our one show there, but that they would be available for anywhere we wished to go – the grocery store, the beach, wherever – nothing was too much trouble.
This was put into practice immediately after the meeting, when we were convoyed to the Surf Ride restaurant near Honolulu downtown – the Waikiki beach region.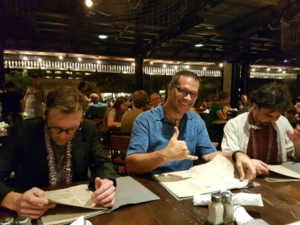 Here is Todd, giving the traditional Hawaiian sign of friendship and good will, which involves rotating the wrist back and forth slightly, with only thumb and little finger visible. We were informed that this was is honour of a Hawaiian man who was renowned for his philanthropic ways and general friendliness to others. He somehow lost three fingers apparently, but this would by no means deter him from waving at people he met. This is not an empty gesture, therefore, more a very accurate symbol of the Islands psyche.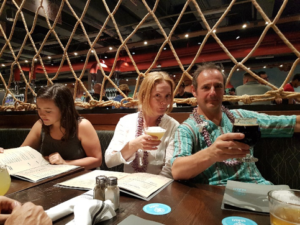 Here's Lizzie and I sampling the local brews, with one of our guides, Michelle, who really could not have been friendlier and accommodating throughout our brief time there!
Surf Tide was a very lovely experience and my fish tacos were sublime. However, we were then taken through the bustling market stores for a nightcap at a place called Dukes which was…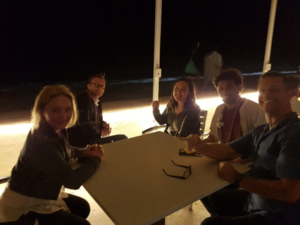 …right on the beach front!!
To be fortunate enough to be taken to such beautiful and evocative places in a work capacity is something I will always be grateful to AFTLS for. These iconic names – Honolulu, Waikiki – they seemed almost otherworldly to me and are possibly on most people's bucket lists. And if they are not, they really ought to be.
Looking back at previous blogs, to Wisconsin specifically, I noted that it began with the heading, it's all about the weather! If you have read my earlier ramblings, you couldn't help but notice my preoccupation with the subject.
I resurrect this subject now because touring from February to April, to these places that are polar extremes to one another, is nothing short of staggering.
It seems a lifetime ago that we were soaking in South Bend, nippy in New Jersey and ice-wrought in Wisconsin. Now, as we strolled along the beach, our feet gently bathing in the warmth of the Pacific, we all agreed that we didn't care to think how we might have felt if the schedule were the other way around!
I now feel the need to insert a couple of pictures I took of the trees on this most lush and verdant Island. Firstly, the palm tree, because it is synonymous with exotic places and warmth and, in my humble opinion, is beautiful.…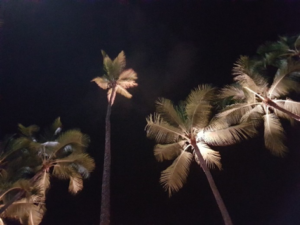 …then the Banyan tree.
Because I was amazed to discover that its new, lower branches actually grow downwards from its bigger branches and over the years take root in the earth. If this is very common knowledge, I apologise, but it blew my mind.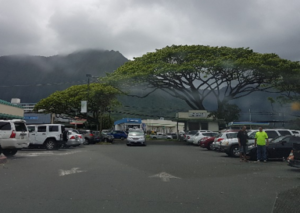 And then a beautiful tree I confess I don't know the name of!
Two of my three workshops were for the lovely Larry Wayman, at Farrington High School, one on the Tuesday and the next the day after. I was driven there by designated driver, Maseeh, who is a director, puppeteer and performer, presently completing his PHD in theatre, specialising in Chinese Opera. What a lovely and fascinating fella.
On arrival, after being presented with my second Lae, I was introduced to George Kon, the executive director of T-shirt theatre and the Alliance for Drama Education, who specialises in theatre for young people. The course he runs is entitled 'rehearse for life,' its motto 'Educate the heart!' Kipuko was the title of their latest, totally improvised piece, around the theme of bullying.
George informed me that the whole catchment area for the school is a very tight knit community. This was proven by the fact that, with only three days' notice, over a thousand people attended the showing at the school theatre. The theatre's roof, incidentally, was very badly damaged by storms four years ago and was reopened only in February.
With regard to my Shakespeare workshop, the students were quite reticent to begin with. However, they gradually warmed to the task and by the second session especially, they had committed to it wholly. Here are a couple of stills of them, taken on the Wednesday morning.
Sandwiched between Larry and Farrington's workshop, I was to be escorted by Todd to the University of Hawaii's Windward community college. But not before he had provided lunch, however. So, I sampled my first taste of poke, a local delicacy, comprising spicy raw fish, usually yellowfin tuna, and rice – it was beautiful.
I passed comment on how beautiful the scenery was and how I expected King Kong to appear over the evergreen mountain top at any second. To this Todd replied, "That's not really surprising; a lot of the Andy Circus movie was filmed here. And lots of Jurassic Park!"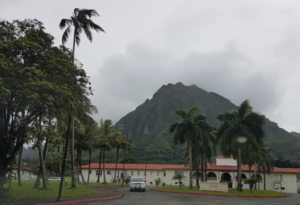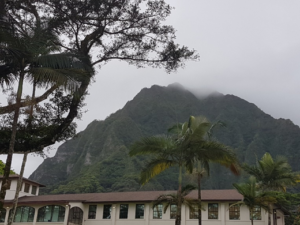 …not the worst place in the world to receive an education!
It proceeded to be a quite lovely workshop experience with their drama students, ably led by the course leader Nicolas Logue. Once again, I was ceremoniously handed my third lei and some chocolates, to boot. (Over the last many years, Hawaii has become a grower of premier grade chocolate.)
The text I used in this workshop was act 4 scene 2 of Shrew, which our cast have labelled the Servant scene, because Evvy and Tom play a whole line of Petruchio's household staff with varying degrees of ability and disability and is one of the highlights of the show, in our opinion.
I split the students into groups of five, gave them their line of parts, which they cast amongst themselves. They were then given twenty minutes or so to take it from page to stage, to give them a glimpse of how the AFTLS rehearsal process is. Everyone watched each other's interpretation as the climax of the session and, due to their absolute commitment and bravery, a good time was had by all.
Here are some sample pictures of them in action…
And a picture of the whole group at the end of the session, with Todd at the back extreme left and Tori, the college theatre director extreme right and yours truly in the stage centre – as it should be, of course!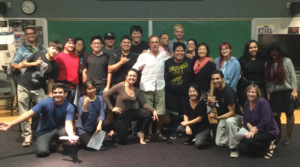 My workshops, however, were topped by Carl's. When we went for a quick powhana, (their word for an after-work drink) he explained that he had run a workshop for some of the teachers at Punahou High School. The thrust of the session was to help them to teach Shakespeare to their pupils with more confidence. However, the more impressive part was that it was held where the iconic President Barack Obama was schooled!
Having completed all our workshop duties, we had only the show to perform on the Wednesday evening. Tom and I managed to find time to go to Diamond Head beach for a couple of hour's R&R beforehand, very kindly escorted by his assigned student, Kiki. It goes without saying, what we saw needs to be seen by you….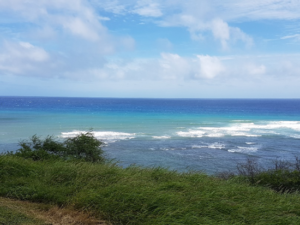 Not…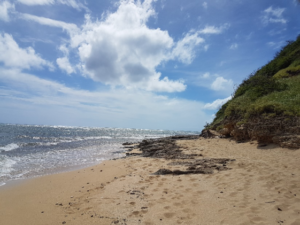 …in any way….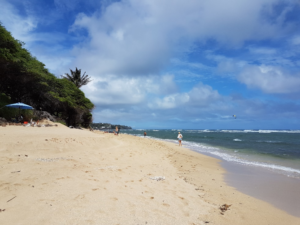 ….too shabby!
The evening performance and indeed the Mark's Garage theatre was remarkable for various reasons.
It is a black box studio space with a capacity of approximately one hundred audience, next to the downtown area in Chinatown.
It is another brilliant factor of doing the AFTLS tour that one really gets to test/flex one's technical skills. Last week it was a large proscenium arch theatre and a big capacity, this week a tiny thrust space which was wholly intense in its intimacy.
This, by the way, is perfect for the tombre of our piece being as we all mingle with the audience from the moment they enter the space, until the show begins. And as often as we can after that!
In the same vein, last week large dressing rooms, this week… suffice it to say, none of us had ever got into costume in a book store, whilst audience politely browsed the shelves behind us or queued for the restrooms. Meanwhile, a jazz band plays at the entrance to the theatre on the corner of the road. Vive la difference!
Furthermore, it was an extremely warm evening and the air conditioning was broken. It was going to be a hot one.
I was thrilled to note that a good number of the students from my workshops attended the performance and it was, we felt, the best show we have done, due in no small part to the quality of the audience.
From the onset they were up for it and wonderfully vocal. Witness the fact that when Carl's Petruchio provocatively challenges the audience early in the second half with…
"He who knows better how to tame a shrew,
let him now speak…"
The voice of a young man proffered….
"Don't."
…which is exactly what we all hoped might happen one day. It created such a wonderful moment of synergy between performer and viewer, all barriers gone.
The comedic elements the audience found hysterical, but even more impressive, however, was their seemingly absolute understanding of every little nuance and detail we had worked so hard to create in rehearsal. All praise to them.
So, drowned in sweat, but very pleased, a big number of we cast, students, tutors and some other audience members went for a few beers.
Such a pity we had a 5.30am call to go to Big Island. Such a pity we had to leave this piece of paradise at all!