By Chris Donnelly
The transition from Santa Monica to downtown L.A. constituted the shortest travel journey we could possibly undergo. Even taking into account the big city's legendary traffic, the eleven miles were done in less than thirty minutes…what a delight!
However, that delight paled into insignificance in relation to the delight we all felt when we saw our residence for the week – the Westin Bonaventura Hotel…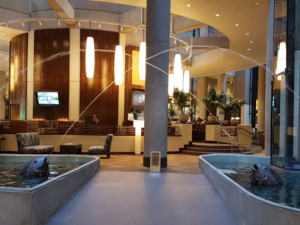 …in all its glory!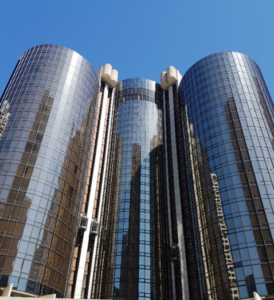 Which we, of course fitted right into…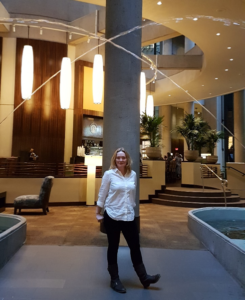 Well, for the most part, at least….!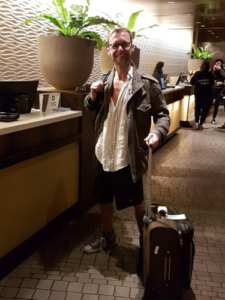 And if you have been following this blog from our arrival six weeks ago (it's going so fast!!) please note the sublime weather!!!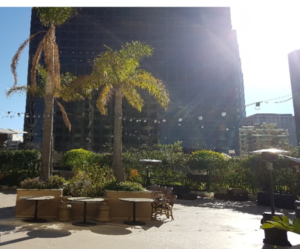 Being a preferred guest rather suited our sensibilities! And our rooms…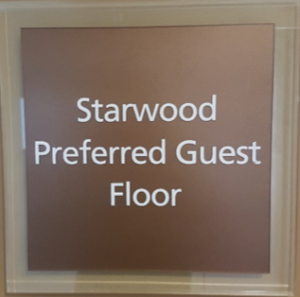 …correction, suites – were nothing short of palatial!
They were even kind enough to provide a welcome gift….
Another benefit of attending the conference was that we were able to reunite with our lovely producers, who run the programme from Notre Dame. Here is Scott Jackson pictured with the cast minus yours truly.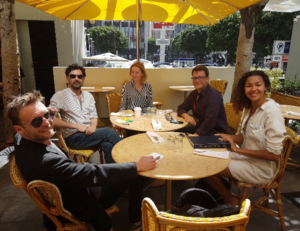 From left to right, Carl Prekupp (Petruchio & Curtis), Tom Kanji (Lucenetio, Gremio, Vincentio, Gabriel, Walter and other servants and Troilus (a dog!), Lizzie Hopley (Katarina, Biondello, Pedant), Scott (the boss man) and Evvy (Tranio, Bianca, Nathaniel, Peter and other servants)!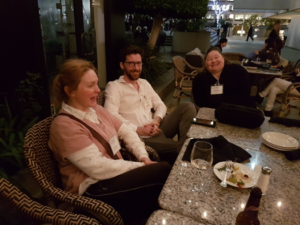 And here is the rest of the team with Lizzie. The new recruit as Audience Development Manager, Jason Comerford, and our chief point of contact and general manager, the quite wonderful Deb Gasper.
The work itself….
Our working week was an exception to the norm, being as we were here to run three workshops and perform our production twice, at the Shakespeare Association of America's (SAA) annual conference, which was to take place in the hotel itself.
Unlike the combined Prison association and Shakespeare Theatre Association (STA) conferences that I was fortunate enough to be privy to on my last tour with AFTLS two years ago which was hosted at Notre Dame, this was apparently to be much more based in academia.
Coming from a purely practical actor's approach in taking text from the page onto the stage, as twere, we were not certain of how our workshops and indeed the show itself, would be received. However, I think we were all very pleasantly surprised.
All five of us were required to attend all the workshops. Tom led the first, which focused chiefly on the language of the play, Evvy led the final workshop, which explored the main themes of the play, especially with regard to the gender issues and how the play might be perceived by a modern audience. Both were terrific to be a part of and indeed to observe with a view to abject plagiarism and basic theft of ideas to use oneself in subsequent workshops!
The main thrust of my workshop was to give the delegates a taste of our rehearsal process. That is to say, splitting them into groups of five, giving them each a line of parts and without the aid of a director, their brief was to put their scene on its feet, taking special attention to keep the storytelling clear whilst transitioning from one character to another. At the end of which, they all watched each other's work in chronological order of the play. As the following couple of pictures testify – in all three of our workshops – the attendees really threw themselves into it with alacrity and the feedback was extremely positive, as these pictures testify!
Below is a particular favourite of mine, whereby a delegate decided to differentiate between two of her characters, by utilising a glass tea-pot with mints in it as a hat! Health and safety aside, a work of genius!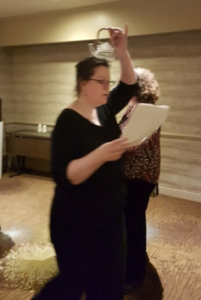 The shows…
Our two shows were rather interesting affairs. The performance space was a large conference room in the hotel and therefore, no lighting whatsoever and only a slightly raised platform to play on.
Like Santa Monica the week previous, we arranged the room in a thrust configuration, so that there would be as much intimacy as we could possibly generate in a space with little or no atmosphere.
Also, there was the factor of the audience themselves. What would it be like just five actors with multi-roles, playing to an ostensibly academic audience?
As it happened, the first performance was well supported and much to our surprise and joy, we received a standing ovation. This was followed by some delightful comments in the elegant (until we arrived, at least!) lobby bar afterwards.
Our second show the following evening was the last presentation of the conference and sadly, by this stage, the majority of the delegates had seemingly either departed already or were fatigued from the previous three days activity. Whatever the reason, it was rather disappointing to play to a rather meagre and restrained house for our final show in L.A. However, the feedback was again extremely positive.
The place itself…
The nature of the conference meant that we had rather more time off than we are accustomed to and we utilised this to full effect.
Wandering around L.A. in the glorious sunshine, I realised I had no real frame of reference to the place, other than a vague image of one huge smog-filled traffic queue. Therefore, I could not be anything but impressed with how delightful much of the historical part of the downtown was and how verdant and relaxed.
Here are just a few pictures I took as I meandered…
And the iconic Walt Disney Concert Hall, home to the L.A. Philharmonic Orchestra!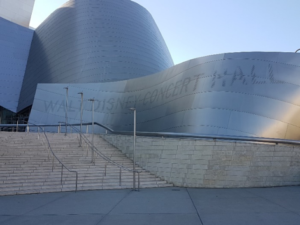 And here, one of the decks of the hotel, by night…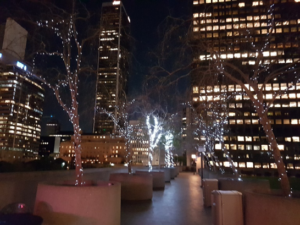 There was even the time for Evvy and I to head back to the beach at Santa Monica.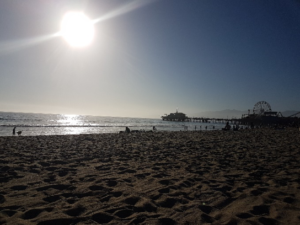 And here the sunset that came soon after….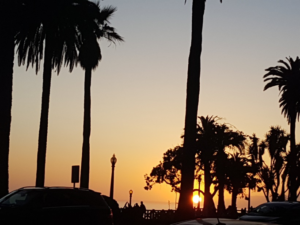 Touring doesn't get much better than this! Further proof of this statement, if it were needed, I will again leave to the pictures to show for themselves.
Tom, Evvy and I took the trip to the Huntington museum on our final day in L.A. and it was hard to say which was more delightful; the Japanese gardens….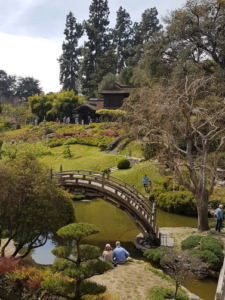 Or the Chinese gardens….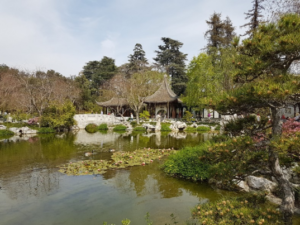 And to top it off, an Easter bunny on Easter Sunday!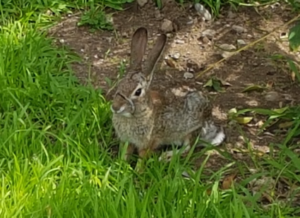 And so concluded our week in L.A…. On, on, you noble English….to New York state. And Vassar!