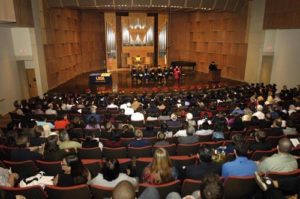 We've been having an amazing tour so far. We opened at the University of Texas at San Antonio tonight performing in their beauteous Recital Hall (pictured) which has glorious acoustics and a mighty organ behind our delineated acting area. As we have no director, stage manager or "techies" with us, it is our job to organize: putting our play in a new space – and boy have we had some different spaces – an exciting challenge.
We first performed at the Westville Correctional Facility in Indiana in a tiny, bare, very hot room with around thirty or so charming men who were hungry for Shakespeare. They take part in a series of weekly workshops run by Shakespeare at Notre Dame's Scott Jackson. They asked brilliant questions and shared wonderful thoughts about the production. Clarity can be potentially hazardous when you have five actors playing 27 or so roles, but they all seemed to follow the plot really well. We learned, several of the attendees had never been to the theatre before, and all sat in rapt attention. For us, it seemed such an important thing to do, to perform there. The visit to Westville stands as one of my most amazing theatrical experiences.

Our next stop was The University of Texas at Austin, a serene and vast campus full of live oaks, unknown to us in England. We had such enthusiastic audiences (people standing, wow!), a biggish theatre, and our very first classes. This is the first AFLTS tour for three of us – Evvy, Hannah, and Alice – and they were a bit nervous as workshops began. However, after sharing classes with them, I can testify that all three are completely BRILLIANT, and their teaching has received wonderful feedback. Paul is already a seasoned teacher and an exceptionally clever chap, having studied Classics at Oxford; this is his third tour.
The idea for our classroom sessions is to share the actors' approach to a text. For example: warming up our voices and bodies, physicalizing words, staging short  scenes, thinking about the characters' emotional and physical states, and, most of all, their intentions. We also touch on the importance of speaking the text OUT LOUD and having a NEED as a character to say these things. For students, this approach is occasionally strange, sometimes truly silly (which is such fun), but always a welcome way in to the text.
I have my classes pair off. In each pair, one becomes a Lancastrian supporter and the other a Yorkist (the two factions in the play). They then push hard against each other's palms whilst shouting "Dog, cur, and villain." The physical impetus makes the antipathy much easier (though most people just giggle a lot the first time round). I had a football quarterback in my class yesterday who the teacher said she had never seen so animated!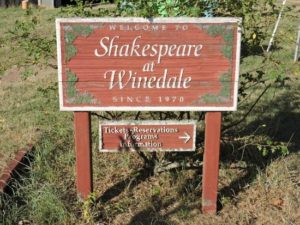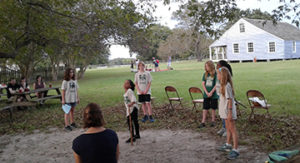 On the Saturday of our Austin residency we drove out to Shakespeare at Winedale and their summer school Shakespeare camp run by the very wonderful Laurel and James Loehlin. I've known James for 25 years as he worked at the Orange Tree Theatre in the UK at the same time as me. The Winedale theatre is a converted hay barn, so we adapted to a teeny tiny stage with three additional levels, a lovely and different dynamic. We watched some fantastic child actors beforehand (directed brilliantly by Clayton Stromberger). They performed scenes from Richard III under the trees. I must give a special BRAVO! to the young girl who played a most MAGNIFICENT Queen Margaret. We had added excitement during the performance as a coral snake had to be killed trying to get into to watch our play. Evvy Miller, playing Buckingham, is terrified of snakes and calls them "speedy, small, death machines." As she was waiting to make an entrance, she was quietly told to "shift quickly as there was a snake on the loose." We all survived the scare and enjoyed a lovely response to the play. We concluded our Winedale evening star-watching under that dark and huge Texas sky.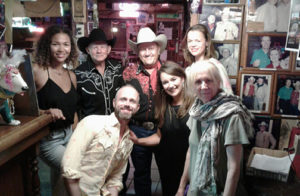 We have managed a few "jollies" (an English word for fun trips out) to the very famous "Broken Spoke" dance hall (pictured), to swim in the creek in Austin, and to watch the nightly exodus of one and a half million bats from under Congress Bridge which was absolutely SPECTACULAR. We have also eaten our body weight in burritos, steaks, tacos, and enchiladas. Luscious!
— Liz Crowther