So. Two weeks done in the US of A. We spent most of week one on the second floor of a campus building, a 'theater lab' that acts as our rehearsal space. Occasionally we would wander out to 'The Huddle,' a building opposite that houses various eateries and drinkeries that cater for our lunchtime needs. And in the evening, we would wander out to a local bar and chew the cud. But truthfully, we were in a kind of bubble, an other-world consisting of five British actors, a suitcase of props and costumes, and lots of bottles of water. And yet we are still not immune to the spiraling tornado that is emanating from the White House. The TV is awash with experts and questions and rants and fears. And honestly, I'm scared of where this all may lead. Arrests made at JFK Airport, protests, executive orders, closing borders. Strange times.
One of the classes I was asked to teach on was on the subject of rhetoric and great speeches, so I thought I'd work with them on the Mark Antony "Friends, Romans, countrymen" speech. Reading over it, this section hit me between the eyes:
"O judgment! Thou art fled to brutish beasts,
And men have lost their reason."
Even in our iambic bubble, you can never hide away too far…
In fact, to highlight the surreal in all this we were greeted at Chicago airport, when we landed, with a stretch limousine. "Why?" my daughter demanded jealously when I told her. Well, apparently it was the cheaper option. All I know is that, since Chicago is an hour behind South Bend, Indiana, there was a time when I, sitting at the front and Jack, sitting right at the back, were in different time zones.
Indiana is southeast from Chicago and Lake Michigan. South Bend, the local town, is a low sprawl of highways and chain stores, much like many an American town – with so much space to play with, the architecture is generally low and wide. It's also pretty featureless.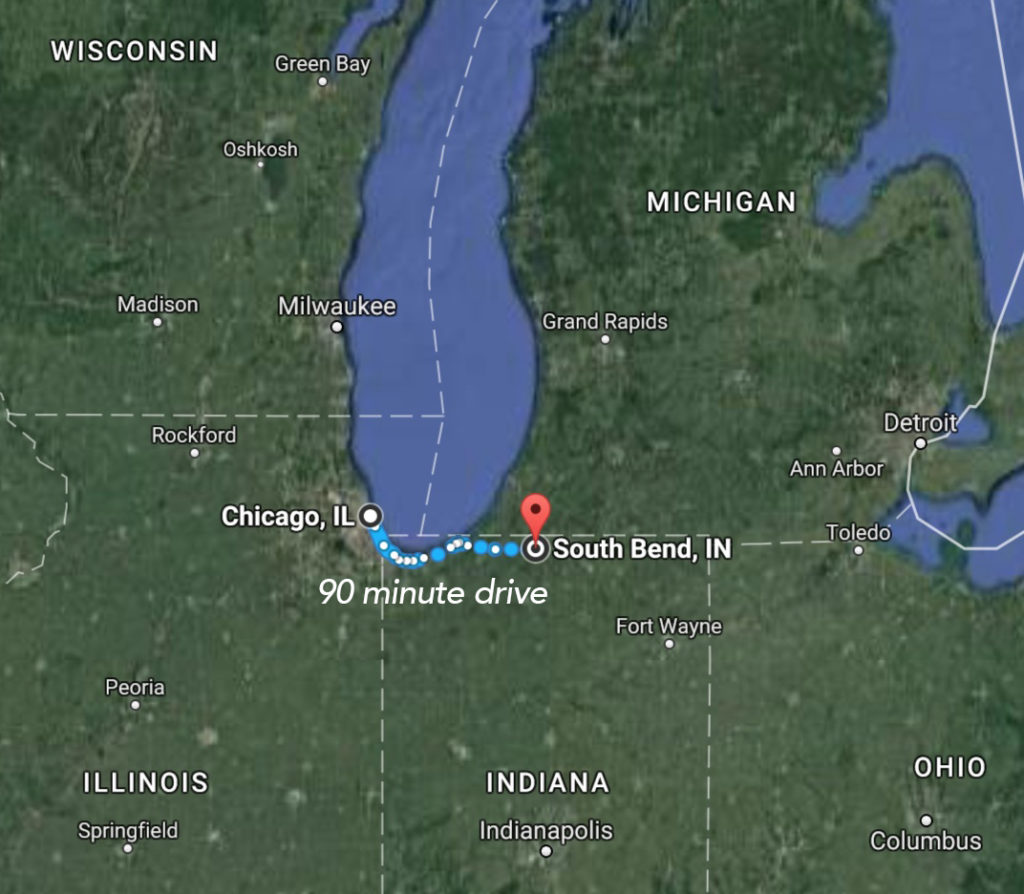 The University of Notre Dame, meanwhile, is a mix of impressive buildings that seem to be, in a uniformly sand-blasted way, gothic-influenced and money-influenced. For the 8,500 students here, the facilities are palatial. Apparently, many students get scholarships, which is a good job as the annual fee is apparently $61,000. The mind boggles. (You sure you want to take away the cap on the £9,000 annual fee in the UK?) The university has its own fire station, its own police force, its own zip code, and even its own power plant.
We also boggle at adverts and billboards that are so wonderfully unenglish. So far we've been enticed by various stores and messages: "Let's Spoon," "Femme Fatale" (a gun store), "Don't Get Caught Dirty," and a TV advert that promises to "lubricate itself right in the package." As you can imagine, we play up the stereotype and react in a suitably Downton Abbey manner.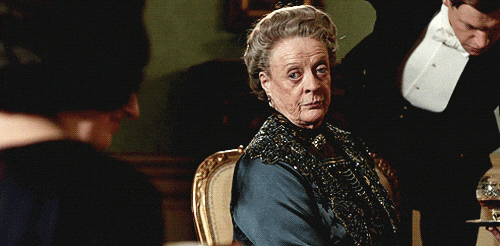 One big highlight this week has been to watch a live ice hockey match – a first for me. At the beginning, Will, Sarah, and I stared incomprehensibly at the high-speed mayhem but, with the help of some hockey moms cheering on their high school kids, by the end of it we were cheering and nodding knowingly at the two-minute penalties and the nuances of stick and puck. Great fun. For the record, Newtrier beat St.Joseph's 8-2.

The boys have also ventured out to the local bowling alley. It seemed such an unprepossessing place as we drove up to Chippewa Bowl. But inside, an astonishing tardis of striking and unsparing proportions (see what I did there?). Seventy lanes. SEVENTY lanes. I ask you. Probably a good thing, as it meant no-one noticed the spirited but average fare from lane 52…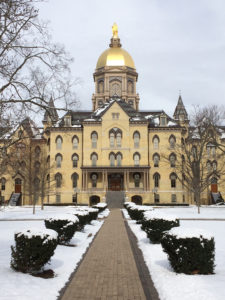 It's surprisingly mild for the time of year but finally, in the last few days, the snow has come in. Not a staggering amount, but enough to impress five Brits and give us an excuse to finally unpack those extra Michelin-sponsored layers. Jas' roller blades will have to wait though. In the meantime, we get our exercise in the hotel gym. I think we all know it won't last, but we're pretty keen cyclists, runners, and cross-trainers for this week at least.
In the meantime, we rehearsed. Getting into the theatre was a good shock to the system; the space is a lovely two-tiered and quite intimate space (about 500 seats), but it requires a fair amount of work vocally – especially on the consonants – and is quite wide too and a challenge to play to all areas. For English readers, it's rather like the Rose Theatre, Kingston, or Chichester (before the make-over).
Over the last few weeks, I've learnt two things about how to work with a company of five and no director. The first is that you have to try everything. Not only that, but you have to have time to work through each idea. It's quite time-consuming, but even bad ideas are useful to explore, not only to be sure they don't work, but also because they often lead to good ideas you wouldn't otherwise have thought of. And the second thing is that you need to be as sensitive as the most sensitive person in the room. Which is not always the same person. Again, this demands a patience and awareness, but that is a useful mindset to get into for an eight-week tour. And it's turned us into a close-knit group.
And so to the show. Finally playing to an audience was just what we needed, and the reception was lovely. There really is a lot of humour in the first half, despite the family feud, and the audience was quick to pick up on that. The biggest challenge is to keep the freshness of a story that everyone knows and the ending that the prologue has forewarned you of (spoiler alert). Over the coming weeks that, I suspect, will be our biggest test.
Apart from taking a class on the acting styles used in the Buñuel film Los Olvidados, possibly. That was a challenge I wasn't expecting on this tour. In the event, we had great fun with it, storyboarding the opening of Romeo and Juliet in the style of a Buñuel film. It's important to understand that the students we teach are often not drama students (in this case they were studying Spanish), but their willingness to dive in and participate is both surprising and wonderful. Other classes covered in this first week of teaching have included Henry VIII, the speeches of Lady Macbeth, gang violence and poetry reading.
In my warm-up for a class on rhetoric the other day, I asked the students to face a wall and give only the volume needed for that distance, and then got them to increase tat distance bit by bit. "Do any speech you like", I said, "or, if you don't know one, then a poem or lyrics or anything you can repeat a few times". "Anything?", one student asked. "Yes, anything", I confirmed. I think it was a great compliment to the establishment that, on walking round the classroom, I heard three "Hail Marys" and four or five "Lord's Prayers"…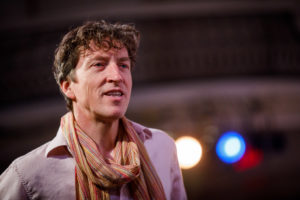 After the final sold-out show tonight, we head off to Chicago for the weekend, before our next stop at Berea College in Kentucky. I have to say that the hospitality and the generosity we've encountered has been terrific. Long may that last on this journey.
— Roger May (2/3/17)
[Disclaimer: The views expressed are the author's and do not necessarily reflect Shakespeare at Notre Dame or the University of Notre Dame.]