After spending nearly five fabulous weeks at Oideas Gael, I have begun to think hard about what makes this place so special, and why Notre Dame continually sends Irish students to better their language skills here. The first, and most obvious thing, is that Oideas Gael is one of the most renowned and well-established Gaeltachts (Irish-speaking areas) for adult learners. It was founded in 1984 and has only continued to gain more students and prestige throughout the years.
This prestige is not the only reason why Oideas Gael has become so special to me. The love of the language here is contagious, and unlike anything I've ever experienced. The teachers, the students, the directors, the employees….There is an ever-present respect and love for Irish that makes me want to become fully fluent in it. In addition to this, there is the sense that learning the language must be something you want to do, and in a way that is useful to you. In classes, there is no pressure to get everything perfect, because that pressure would erase the feeling of ease and wonder at the language. There is also an emphasis on learning the language in a way that is most helpful personally –while grammar is important, it may not be the most important thing to everyone, and sometimes the fear of not getting the grammar perfect can actually hold you back from speaking at all. Oideas Gael is special because it puts the language into perspective; Irish is not solely about learning a specific set of vocabulary and phrases and using it to pass an exam. Rather, it is a language full of history and cultural importance.  Oideas Gael recognizes that and offers students do many opportunities to realize that history and culture importance for themselves, through dance and song and poetry and walking through the landscape. It really makes me think of Irish not as an isolated, dying language, but one of usefulness and hope.
As my time at Oideas Gael comes to a close, I feel lucky to have been able to come here. It was a life-changing event, both through the learning of the language and the friendships I made. Oideas Gael is so very special.
A metal sculpture of Ireland and its counties near the beach in Gleann Cholm Cille.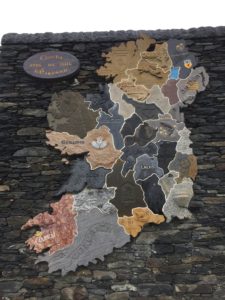 The sign outside Oideas Gael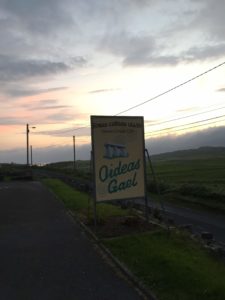 .
The beach at sunset