One of the most prominent differences between this program in Donegal and the one I completed in Carrraroe last summer is the amount of teachers on this program. At least half of the people in the program seem to be teachers. I've come to learn that this is because in the Republic of Ireland it is required for teachers to have Irish as it is mandatory for all students to be taught the language. After talking with a few of these teachers, I began to get a better sense of the requirements to be a teacher, being a teacher in Ireland, and feelings toward the Irish language.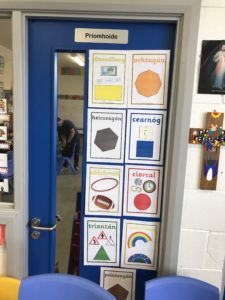 A display teaching shapes in my classroom. My classroom is regularly used for teaching young kids.
One of the people I talked to is already a teacher in Northern Ireland, but as Irish is not a requirement there, she needs to pass her certifications before she can teach there. In addition to receiving a certificate, it is also mandatory for teachers to complete 3 weeks in the Gaeltacht, which explained why there were so many teachers there. Additionally, you don't need to have this requirement completed when you get the job, rather it needs to be done after you have been teaching for three years.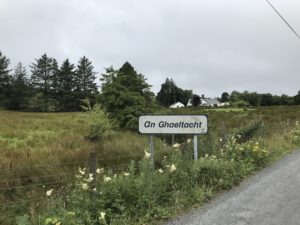 The sign for entering the Gaeltacht
I don't know a lot about getting teaching jobs in America, but I did learn a bit about what it is like for teachers getting a job in Ireland. When you are in the South, if you have been subbing for 3 years or have not had a permanent post, you are put on a panel where you are entitled to get a permanent post. Apparently there are not a lot of jobs in the North and the pay is better in the South, so people want to come to the South to teach.  In fact, my housemate who is a principal was saying that there is a shortage of teachers in the South, due to this Irish requirement. While this is posing problem, I still think it is good that kids have to take Irish classes and teachers have to know the language. However, the teachers were also saying that kids don't enjoy learning Irish and how it was so poorly taught when they were in school that they don't have a lot of Irish now even after taking 12 years of it. One lady said that the schools were trying to change the way it is taught and implement new methods of teaching, but without fluent teachers, this will be hard to do.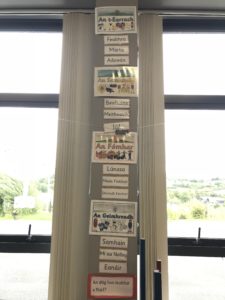 Signs of the months/seasons in my classroom
There are also a lot of people in my program who are teachers, but have taught in different countries and needed to get their certificate in Irish so that they are able to teach in Ireland. Many of these teachers had previously taught in England, although there was somebody who has taught in Spain as well. It was very cool to see the flexibility EU citizens have in being able to work and live in different countries.
Overall, it was very interesting to learn about teaching in Ireland from the perspective of the teachers. It seems logistically different to find a job in Ireland than it is in America, as well as having the added aspect of having to achieve a certificate in Irish in order to teach.