Wow, who knew that there were so many ways to speak Italian?! This week I challenged my speaking skills by visiting Rome. It's about a 3-hour bus ride from Siena, and let me tell you, the accent is very different. In Siena, I am used to hearing the locals speak with a bit of a hissing sound in their speech. They are more likely to add an "h" to a word, and I've gotten pretty used to hearing that sound. However, in Rome, the accent is closer to traditional Italian language. It was actually a little easier to understand the locals as they spoke far more directly here.
On Friday of our long weekend, my roommate and I went to Vatican City. We took a tour of the museum, climbed all 500+ steps of the Basilica, and went inside the church itself. I had dreamed of that day since I was a little girl in Catholic school, and I can't even explain the feeling of sheer joy and awe that I felt in that space. We also had dinner with a few ND interns and a priest that day. Father Kimes studied in Italy, so we had incredible conversation about the faith and Italy itself in the language. It was truly such a joy to meet him and share experiences together.
During my visit, I saw the Colosseum, Pantheon, Roman Forum, and the Paletine. The whole day spent viewing the ancient side of Rome was by far one of my favorite days of the weekend spent there. It was so exciting to experience all of that culture and history in one place. I was exhausted and sunburnt by the end of the day on Saturday, but it was well worth it.
On Sunday, I fulfilled one of my lifelong dreams: I heard the Pope speak and received his blessing. I had him bless a crucifix I bought in Vatican City, and I hope to pass it down to my children one day. He talked in Italian about an anonymous family that he hoped we would all pray for. He welcomed groups from places like Poland and Belgium, and finally asked for us to pray for him throughout the week. While we were in the square, we saw a dove land nearby and I truly couldn't believe how amazing this sign from God was.
I am so fortunate to have visited Rome and fulfilled a dream I have had since I was a little girl. I experienced an incredible moment sharing a meal with a priest and conversing in Italian and being able to hear one of my greatest heroes speak in Vatican City.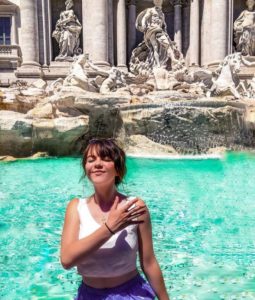 Until next time,
Madelyn