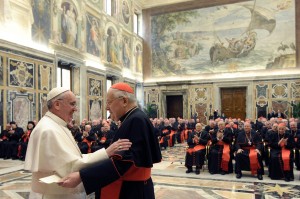 Many of you may recall the buzz on both The Catholic Conversation and other media over the past few months regarding Pope Francis' call for global input in preparation for the October 2014 Extraordinary Synod on "the pastoral challenges for the family in the context of evangelization." Brian Starks discussed the practical issues surrounding the use of scientific vs. non-scientific survey methods to gather responses. Linda Kawental followed the lively discussion in both secular and Catholic media outlets "over what exactly the Vatican questionnaire means and how Catholics are to interpret it."
Then earlier this month, two countries, Germany and Switzerland, published summaries of responses to the Vatican's 38 survey questions regarding how the Church's teachings on marriage and family are understood in their dioceses and how pastoral care regarding key marriage and family issues takes shape there. Their summaries are quite fascinating and worth reading in the original before looking to the manifold media interpretations of these summaries, such as a Catholic News Service (CNS) article after the German and Swiss summaries and Reuter's interpretation of Germany's findings.
And now, just this past week (February 20-21), roughly 150 cardinals gathered with Pope Francis in Rome for two days to preliminarily discuss pastoral challenges around marriage and family, focused particularly on three themes: the Christian vision of people and family life; essential pastoral programs to support families; and ministry to divorced and civilly remarried Catholics. An overview of their discussions was been made available to reporters by Father Federico Lombardi, Vatican spokesperson, and are summarized here. It is unclear how much the German and Swiss survey summaries influenced these discussions, but the Pope's call that the Church's pastoral approach to Christian marriage and family be "intelligent, courageous, and full of love," his selection of retired German cardinal Walter Kasper to give the opening talk, and the Pope's simple gesture of arriving before cardinals and greeting each one warmly at the door to the synod hall (video footage available here) may offer clues.