This is a blog post to allow me to test settings for posting comments.
First, log in to your sites.nd.edu blog as admin, and go to the Dashboard.  Select Settings.  Then Select Discussions.
Make sure "Allow people to submit comments on new posts" is checked.
Make sure "Automatically close comments on posts older than _____ days" is not checked.

If this does not solve the problem, or if it only solves the problem for some blog posts (possibly posts made after you have changed these configuration settings, there is one more thing that you can do.
While you are still logged in to the Dashboard, go to All Posts.
Select one or more blog posts that are not allowing comments: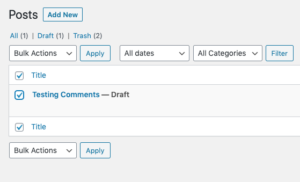 Find the pull-down menu that says Bulk Actions.  Change that to Edit, and click Apply: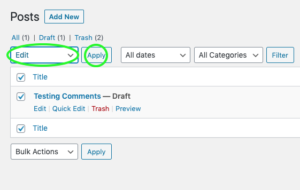 This will pop up a contextual menu that you would otherwise not be able to see.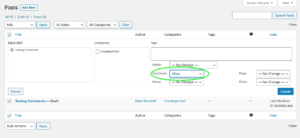 Make sure Comments are set to Allow.  Click Update.
Comments are now allowed for all blog posts that you selected.
This information is also available in the ServiceNow KB database as article KB0018826.