The Good Lecture: Ryan Cook & Chase Miller
The First Annual James E. Skerl '74 Christian Manhood Lecture
After a fun weekend in Boston, Ryan Cook and I returned to Cleveland, OH for a well-earned week of relaxation and rest after finishing up midterms week. That being said, a former teacher and great friend, Tom Healey had reached out to us with a fantastic opportunity two weeks beforehand. We had the chance to be the speakers of the first James E. Skerl '74 Christian Manhood Lecture at our alma mater, Saint Ignatius High School. The current senior class of about 370 students as well as a handful of faculty listened to our talk about God and the Good Life, The Good Place, and continuing to develop their understanding of practical moral theories after they graduate.
The audience largely enjoyed our talk (or perhaps they were just happy to get out of class) even if we had some minor technical difficulties in the beginning. I've attached a link to an article about the presentation by Mr. Healey, some images from the talk itself, and a few screenshots of our slides.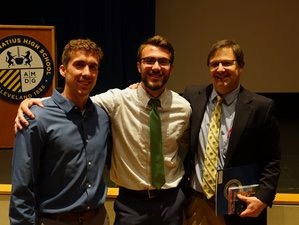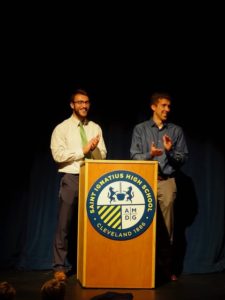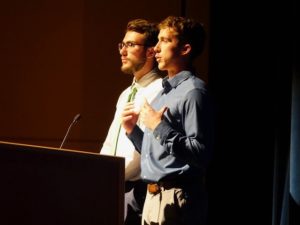 Here is Ryan and I during the presentation as well as with Mr. Tom Healey after the talk.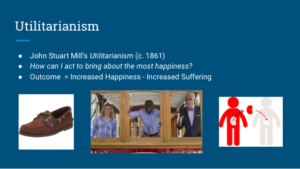 A couple of our slides that we talked through and explained to the audience.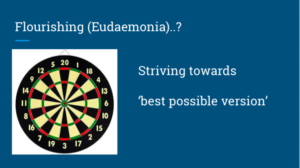 I'd like to thank Professor Meghan Sullivan for her insight on publicly speaking about philosophy, Mr. Tom Healey for arranging the talk, and Ryan Cook for being a fantastic partner for the presentation. It could not have been done without their help.
A.M.D.G.