Leo Strauss on Political Philosophy brings together the lectures that comprise Strauss's "Introduction to Political Philosophy." Strauss begins by emphasizing the importance of political philosophy in determining the common good of society and critically examining the two most powerful contemporary challenges to the possibility of using political theory to learn about and develop the best political order: positivism and historicism.
---
Harvey C. Mansfield, Harvard University
"There is no book on Machiavelli quite like this one, with exposition and analysis of every major work. Zuckert's writing is admirably clear, the depth of her knowledge about the history and background of the texts amply evident. In establishing the coherence of Machiavelli's work, her interpretations of particular passages are surprising and enlightening."
---
Steven B. Smith, Yale University
"The Zuckerts have done it again! Their new book establishes Strauss as being at the forefront of the great philosophic minds of the twentieth century. This book not only makes Strauss's writings clear and accessible but raises him above the shabby polemics to which his thought has too often been subject. Their careful readings, together with a mastery of the entire corpus of Strauss's work, will put this book on the top shelf for those interested in a serious engagement with Strauss the thinker."
---
Plato's Philosophers: The Coherence of the Dialogues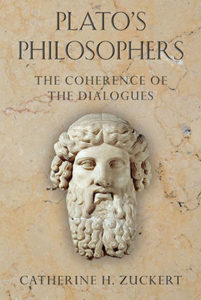 University of Chicago Press 2009
Choice
"Brimming with original insights, this massive book offers a comprehensive vision of the entire Platonic corpus. . . . Both analytic philosophers . . . and literary interpreters, who eschew argument in favor of artistic structure and presentation of character, will profit from engagement with this brilliant study. . . . This book will allow scholars of all persuasions to make discoveries at every turn as the author guides them through territory they thought they knew well."
Mark Blitz, Claremont Review
"No serious student of Plato could fail to benefit from Zuckert's careful, intelligent, probing, and illuminating discussions. . . . An important, impressive, and, one hopes, lasting book."
Choice Magazine: CHOICE Outstanding Academic Titles Award
Association of American Publishers: PROSE Book Award
Association of American Publishers: R. R. Hawkins Award (PROSE)
---
Kei Hiruta, Philosophy in Review
"… The editor Catherine Zuckert assembles an impressive cast of contributors and does a fine job of quality control. The book maintains an overall high standard and includes particularly good chapters by Joseph Buttigieg on Gramsci, Dana Villa on Arendt, Michael Bacon on Rorty, and Arthur Madigan on MacIntyre. An excellent introduction to the field, this edited volume is more comprehensive than single-authored books of similar orientation … "
---
Is Leo Strauss truly an intellectual forebear of neoconservatism and a powerful force in shaping Bush administration foreign policy? The Truth about Leo Strauss puts this question to rest, revealing for the first time how the popular media came to perpetuate such an oversimplified view of such a complex and wide-ranging philosopher. More importantly, it corrects our perception of Strauss, providing the best general introduction available to the political thought of this misunderstood figure.
---
Postmodern Platos
Nietzsche, Heidegger, Gadamer, Strauss, Derrida
University of Chicago Press 1996
Zuckert examines the work of five key philosophical figures from the nineteenth and twentieth centuries through the lens of their own decidedly postmodern readings of Plato. She argues that Nietzsche, Heidegger, Gadamer, Strauss, and Derrida, convinced that modern rationalism had exhausted its possibilities, all turned to Plato in order to rediscover the original character of philosophy and to reconceive the Western tradition as a whole.
---
AMERICAN POLITICAL SCIENCE REVIEW
Named Outstanding Book in Philosophy and Religion for 1990 by the Association of American Publishers. …a remarkable book….Zuckert shows, subtly and persuasively, how the themes of American literature resonate with those of modern thought…Zuckert brings us to the point where philosophy and politics intersect. Few projects have such depth.
---
Understanding The Political Spirit
Philosophical Investigations From Socrates To Nietzsche, Yale University Press 1988
Selected as an Outstanding Academic Book for 1988 by Choice Magazine
—Thomas L. Pangle, University of Toronto
"These essays, a happy mixture of breadth and integration, will appeal to scholars and students in philosophy, classics, and literature as well as in political science or political theory."
—Leon H. Craig, Canadian Philosophical Reviews
"This is a book that is both timely and of enduring value. Timely, because the very idea of spiritedness as the politically most important component of the human soul threatens to disappear from our psychology. Enduring, in that the ten essays comprised therein constitute a permanently useful introduction to the phenomenon as it has manifested itself throughout our tradition of political philosophy."
---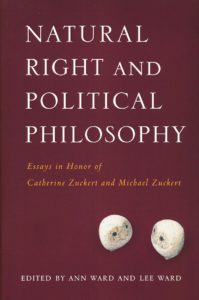 Natural Right and Political Philosophy Essays in Honor of Catherine Zuckert and Michael Zuckert Edited by Ann Ward, Lee Ward
—Robert K. Faulkner, Boston College
"In this collection compiled in honor of Catherine and Michael Zuckert, the contributors address a wonderful variety of serious issues in important literary and philosophic texts. Their topics range from Plato on piety to Stoppard on socialist utopianism, and from Aristotle and Augustine to Euripides, Locke, Hegel, Shakespeare, and Booker T. Washington. The volume stands as an impressive introduction to the liberal arts and a lively introduction to many great issues of liberalism, Christianity, justice, and liberty; it is also a tribute to the Zuckerts' breadth of study, teaching, and influence."