Als Hausaufgabe zu Montag machen Sie bitte folgende Aufgaben in der Deutschen Wiederholungsgrammatik:
Focus on Meaning and Form, S. 400-401
Lesen, S. 401-404
Focus on Form and Meaning, Nummer 4, S. 406-07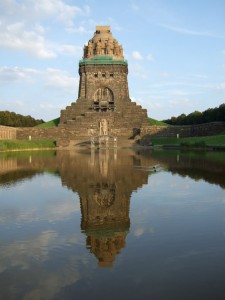 Außerdem lesen Sie bitte folgenden Bericht über das Völkerschlachtdenkmal in Leipzig und markieren Sie alle Sätze, die im Passiv oder im "Sein-Passiv" (statal passive) sind!

Achtung: Ich möchte außerdem in dieser letzten Woche vor den Herbstferien alle Studenten, die bislang noch nie zu meinen Sprechstunden gekommen sind, für 10 Minuten in meinem Büro sprechen. Ich habe dafür folgende Zeiträume reserviert: Montag, 9:00 bis 11:00 und 12:00 bis 13:30, Dienstag 10:30 bis 13:30, Mittwoch 9:00 bis 13:30.  Um einen Termin zu machen, benutzen Sie bitte die "Post Comment" Funktion für diesen Blog-Eintrag.  Sie können in Abständen von Viertelstunden Termine machen, also um 9:00, 9:15, 9:30 etc.